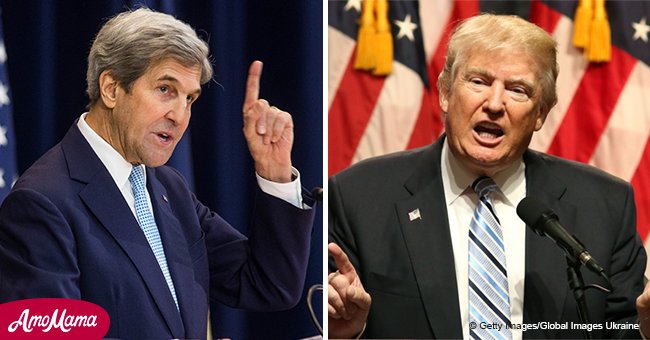 Ex-Secretary of State John Kerry has a harsh message for the President: 'Resign.'
Former Secretary John Kerry boldly stated that President Donald Trump should resign from his post. He hesitated before making the suggestion.
Kerry sat down with CNBC's Tania Bryer on a panel for the World Economic Forum in Davos, Switzerland this week. Trump was also meant to be in attendance but forewent the trip due to the government shutdown.
In the discussion, Bryer asked Kerry what message he would give Trump considering the current situation. Kerry hesitated to respond before suggesting a very big move. The clip is found below.
He said:
"I can't play that ... because he doesn't take any of this seriously. He doesn't have an ability to have that kind of conversation."
Bryer prodded some more until Kerry finally said that Trump should "Resign."
The audience responded with mild laughter as they applauded his advice. The word came as no surprise considering Kerry is a staunch opposer of Trump.
In fact, many are against the Trump administration in light of the ongoing government shutdown which has furloughed 800,000 federal employees.
The shutdown is now on its 33rd day. This week, federal workers are expected to be denied pay for the second time. Airports and government institutions remain affected due to a shortage of staff.
Trump canceled Speaker of the House Nancy Pelosi's trip to the middle east last month. According to him, it was ill-timed to travel amid the shutdown which he refuses to end.
Regarding his own cancelation to Davos, Trump took to Twitter to attack his critics:
"Last time I went to Davos, the Fake News said I should not go there. This year, because of the Shutdown, I decided not to go, and the Fake News said I should be there. The fact is that the people understand the media better than the media understands them!"
Meanwhile, Kerry is not exclusively all politics all the time. He showed his fun side back in December when he celebrated at a wedding in India. Hillary Clinton joined him at the time.
The two were filmed dancing to bhangra music as Isha Ambani and Anand Piramal tied the knot. Isha's father, Mukesh Ambani, is currently the wealthiest man in India. Her new husband's father is also well-endowed.
It was nice to see the politician enjoying himself despite what must be a series of aggravating circumstances resulting from Trump's decisions.
Please fill in your e-mail so we can share with you our top stories!