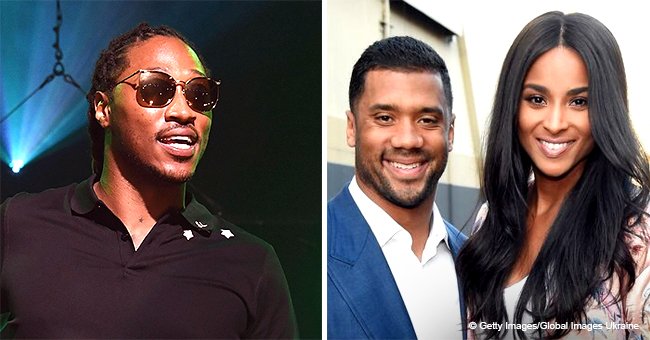 'I'm happy for them,' Future clarifies his criticism of Ciara & Russell Wilson's relationship
After his recent statement about Ciara and Russell Wilson, Future clarified that he has nothing against their relationship and that he is even "happy for them."
During an episode on his own program called "FREEBANDZ RADIO", the rapper addressed his haters regarding a remark that he made about the way Ciara currently treats her husband.
The 35-year-old said that the three of them have no problems against one another, and if anything, social media was the problem.
"It's a social media problem. No, I don't hate him. Totally not the deal. It was just the way we were carrying it, as far as being handled with Baby Future."
He also took that time to say that although he did date Ciara and was once even engaged to her, he has nothing against Russell and is happy for them.
After getting engaged in October 2013, Future and Ciara split three months after the birth of their son, Future Zahir Wilburn, on August 2014. While it wasn't always good between Ciara, Future, and Russell, they made sure to keep an amicable relationship amongst one another in order to co-parent Future properly.
However, while he was on his radio show to promote his seventh studio album "THE WIZRD" recently, he ended up speaking to the interviewer about what he thinks of Ciara's new husband. As soon as he asked a question about Wilson, he responded saying:
"He not being a man in that position. He's not telling her, 'Chill out with that on the internet. Don't even talk to him. I'm your husband. You better not even bring Future's name up.' If that was me, she couldn't even bring his name up. She know that. She couldn't even bring her ex's name up. I don't care what they gave you. You don't bring their name up in interviews. Don't even do nothing around them, don't say nothing."
He also brought up that he didn't appreciate Wilson being around his son all the time before he even met him.
"You'd already started going around my kid when Y'all started going together, and you haven't even talked to me," he said. "And Y'all got married, and she said 'Oh I want you to meet Russell.' Why would I want to meet him now?! Y'all already did the damage!"
However, after saying all of these and getting a lot of hate from people on the internet, he decided to make things clear yet again through the radio show that he doesn't have any bad blood with Wilsons. If they've ever disagreed on something, it was only regarding Ciara's use of social media around their son and the way the parents are handling the custody of Future, especially since they live in different states.
In the end, everything is well between the three of them, and Future proved that he definitely does not have any bad blood against Russell, saying that he wouldn't mind him teaching Future Jr. how to play football.
"[He's] talented. Why wouldn't I want a championship player coaching my son? I want the best for my son."
Please fill in your e-mail so we can share with you our top stories!