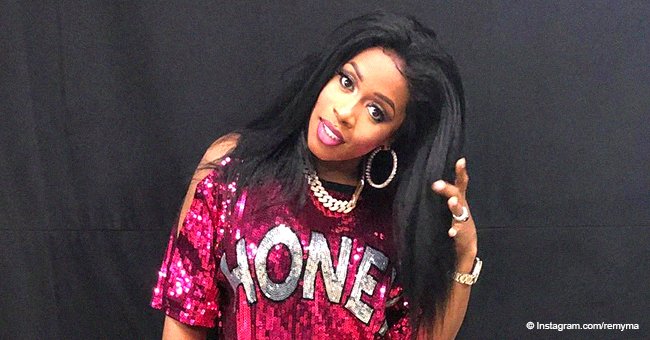 Remy Ma proudly flaunts snapback body just over a month after welcoming her 'golden child'
After giving birth to her "golden child" a month ago, Remy Ma has worked hard to keep her body in fit shape. That is why when she flaunted her snapback body on Instagram, everyone made sure to let her know how good she looked in hopes of motivating her to continue keeping herself fit and healthy.
Dressed in a shimmering hot pink t-shirt dress which kept her shoulders bare, Remy posed for the camera. She wore statement accessories to match her outfit, particularly a large chain necklace, large hoops, and a silver watch. On her face, she chose to wear silver metallic eyeshadow, which matched her whole look and tied it all together.
Her fans made sure to hit the comment section of her post to let her know how lovely she looked, even commending her for not "editing" her photos before posting them.
@darealneeshypooh_: Happy for you. you have a great husband and you two together are unstoppable. I wish y'all eternity there ain't that many papooses in the world that speak highly of their women and love them unconditionally and gave their back. You go girl"
"@lynn67n1: I love a raw picture"
"@poisonivi83: I didnt even recognize you Remy!"
However, there were also some followers of hers that were not really fond of the look she came up with.
"@lovemeblaxkboi: Makeup is a no for me beautiful"
"@briannaballa: Now I know @andrecavasier ain't do your hair for sure ‼️‼️‼️ love you tho remy"
"@iamcoleymoley: Them girls stress the mess outta ur body!!!! You will never be the same Remy needs some Golden Nuggets after that baby!!!!! Yikes"
Regardless of what her followers are saying though, Remy has been over the moon since the arrival of her "Golden Child" with Papoose. The two parents have even released a new song and music video about their little one to honor her.
Remy was the first to share a sneak peek of the video on Instagram, adding on the caption that she's never received a better gift than her "beautiful golden child". Like any proud mom, she shares how her daughter brings her so much joy.
"This is genuine love, admiration, and happiness for our unborn! Those doctors said it wasn't possible! No prison wall, miscarriage, or anything can stop us now!"
The Mackies welcomed their first child as a couple on December 14. Although they haven't shared photos or even the legal name of their daughter, they have been calling her "The Golden Child." Of course, they felt the need to clarify that they would not be naming her "The Golden Child" and it was more of a title rather than a name.
Please fill in your e-mail so we can share with you our top stories!