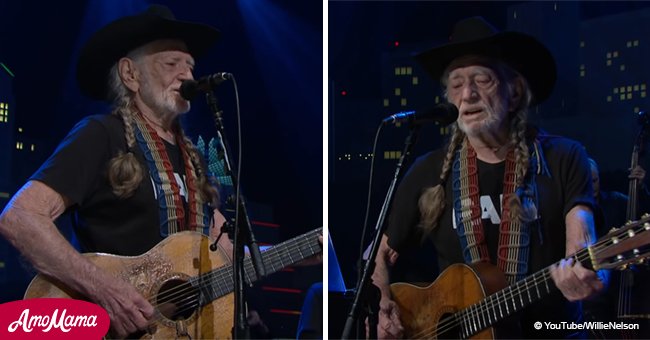 Willie Nelson returns to 'ACL' singing 'Funny How Time Slips Away' with a stunning guitar solo

Willie Nelson stunned fans with a powerful performance of his 60's hit on the Austin City Limits Tv show. The stunning song was complete with a mesmerizing guitar solo.
Nearly 45 years after Willie Nelson first appeared on what would become one of the most influential music series on television in the last half-century. The country singer stunned fans when he returned to "Austin City Limits" this weekend.
The show marked the 18th appearance the star has made on the show. An exclusive clip from the upcoming episode showed Nelson's amazing performance on stage.
Nelson played on his impressive history with the PBS series as he sang the opening lines of his hit song. He changed the tone of the hit 60's song "Funny How Time Slips Away," from melancholy to celebratory.
Using the song's line, "Well, hello there, my, it's been a long, long time," he spoke to the audience. He went on to strum "Armed with Trigger", his trusty Martin guitar.
He went on to play a mesmerizing extended guitar solo. The 85-year-old legend last appeared on a full episode of Austin City Limits nine years ago.
He played out an 18-song set backed by the Family Band. The Family Band includes his sister Bobbie Nelson, Paul English and Mickey Raphael.
The set consisted of songs spanning the songwriter's entire career. It included fan favorites like "Whiskey River," "Mamma's Don't Let Your Babies Grow Up to Be Cowboys" and "Always on My Mind."
Willie Nelson appeared on the pilot episode of the series in 1974. It seemed only fittingly that he was one of the first inductees into the Austin City Limits Hall of Fame when it was launched in 2014.
Forty-four years ago Nelson was a struggling artist. The show had helped boost his career and he quickly became an American icon.
Earlier this month, Willie Nelson and George Strait made history by singing together for the first time. Fans were bewitched by the stunning performance.
The joint appearance of the two legends took place on January 12 during the "Willie: Life and Songs of An American Outlaw" concert at the Bridgestone Arena in Nashville, Tennessee.
Please fill in your e-mail so we can share with you our top stories!