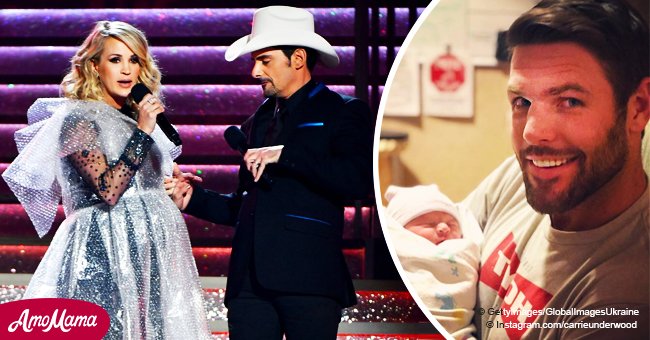 Brad Paisley jokes about Carrie Underwood's newborn son's name in a hilarious message
Brad Paisley and Carrie Underwood hosted the Country Music Awards this year and worked a comedic baby gender reveal into the show.
Paisley and Underwood are always a blast together on stage, and their appearance at the CMA Awards this year was different.
They couldn't resist working the reveal into the show, with Paisley famously "accidentally" letting the cat out of the bag that Underwood was expecting a boy.
Up until that point, Underwood and her husband Mike Fisher had done a good job of keeping the gender of the child a secret.
However, it seems that CMA Awards, gender reveals have become something of a family tradition now.
During the show, Paisley pestered Underwood to reveal the baby's gender. He asked Carrie if she's expecting a "Johnny or June" or "George or Tammy."
It seemed like undeUnderwood would not give him the satisfaction of knowing, and was going to hold firm and keep us all waiting a bit longer to find out.
Paisley, not one to give up without a fight, gave it another go and asked if she was expecting a "Waylon or a Willie."
This caused Carrie to cave and exclaim "It's a Willie!"
Fisher and Underwood welcomed their second son Jacob Bryan Fisher into the world on January 21 and announced his arrival a few days later.
Carrie shared three photos of her bundle of joy on Instagram. Fans and celebrities took turns to congratulate the happy family on their new addition.
Brad didn't disappoint and managed to work the CMA awards reveal into his congratulations writing, "Like I said, it's a Willie! Er…a Jacob!"
Underwood will no doubt take a bit of break and relish in joys of motherhood. For now, fans will have to make do with her 6th album, "Cry Pretty."
The album debuted at number one in more than 20 countries and also made it to the top of the Billboard 200 earlier this year.
Please fill in your e-mail so we can share with you our top stories!