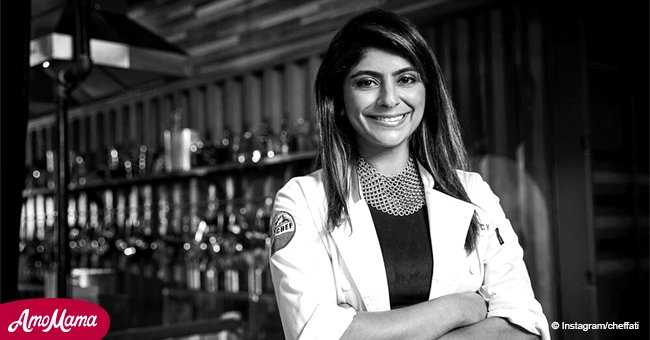 Remembering 'Top Chef' Fatima Ali who lost her battle with terminal bone cancer at the age of 29
On Friday, Fatima Ali from "Top Chef" lost her battle with cancer at the young age of 29. The star had been struggling with terminal bone cancer since 2017.
A tribute was written for the star on the day she passed. She frequently shared her journey with the disease via social media.
Fatima Ali's life was taken by Ewing's sarcoma, a terminal bone cancer. This was after she was diagnosed as cancer-free last February.
The cancer, unfortunately, returned late last year and she was given a year to live. The Season 15 contestant on "Top Chef" posted her last public post about her struggle with the disease on January 11.
She wrote:
"I know it's been ages since I posted and most may have figured out why. I'm sick and unfortunately I'm getting sicker. Right now all I need are prayers; prayers that are simple."
Alizah Raza shared about Ali's death writing:
"Fatima Ali (Chef Fati!) and her brave battle with cancer ended today. Known for her win on Top Chef, but even more for her dynamic personality and hilarious wit, the young chef inspired thousands across borders. Please recite a special prayer for her and her loved ones. May she rest in power."
Bruce Kalman, a close friend of Ali's who competed on the same season as her on "Top Chef" shared his condolences via social media too:
"It's with a heavy heart we say goodbye to Fatima Ali today, as she has lost her battle with cancer. I will miss you Fati, and you will be in my heart forever. I'll always remember the great times we had, especially our interview during the tailgating episode discussing football, stadiums, and Taylor Swift."
On Twitter, the Bravo network released a statement to Twitter saying:
"We are deeply saddened to hear the news that Fatima Ali lost her courageous battle with cancer. Our thoughts are with her family and friends at this time. People not only fell in love with her cooking, but fell in love with her personality and heart."
Ali appeared on "Chopped" in 2012 during an episode that she won. In 2017, she featured on "Top Chef" in an episode that she was well-known for.
There she was named a fan favorite.
This month, after Ali announced that her cancer had returned, her fellow contestants on Season 15 traveled to see her in Los Angeles to lift her spirits. Joe Flamm, Adrienne Cheatham, Tyler Anderson, Bruce Kalman, Tanya Holland, Claudette Wilkins, Carrie Baird, Rogelio Garcia, Chris Scott, Tu David Phu, Joe Sasto, Melissa Perfit, and Laura Cole came from all over the country to support and encourage the ailing star.
Please fill in your e-mail so we can share with you our top stories!