Michael Douglas shared a sweet photo of his granddaughter and she's already so big
Michael Douglas, the proud grandfather of Lua, shared an adorable picture of her while they spent some quality time together.
Lua, already 1-year-old and daughter of Michael's eldest son, Cameron, looked sweet in her flower headband and patterned red and white dress as she sat on Michael's lap. 
The actor smiled as he enjoyed family time with his granddaughter before the SAG Awards Gala 2019.
Grandfather Michael is not the only one to lobby for time with cute Lua, as great-grandfather Kirk, now 102 years old, got pictured with the legendary Kirk last year.
Cameron posted a perfectly timed black and white snap of Lua reaching towards Kirk's hands, who smilingly looked down at her.
But Lua is not the only one in the Douglas family who recently came into the spotlight. The 15-year-old daughter of Michael Douglas and Catherine Zeta-Jones, Carys, is also coming into her own. 
Spending time in the spotlight, whether it be on the red carpet or magazine stands, Carys looks more and more like her mother every day. Much like the rest of the Douglas family, Carys too is looking to enter show business.
With mum Catherine to show Carys the ropes, she is often seen with her mother at big events. She had previously worked with the likes of Michael Kors and Dolce and Gabbana and made her debut at the New York Fashion Week in 2017.
The young beauty had previously expressed an interest in the fashion industry but also loves acting, songwriting, and singing, however, mum Catherine gave her great advice:
"You know who you are better than anyone knows you, and you know your true values. Stick to that and have fun."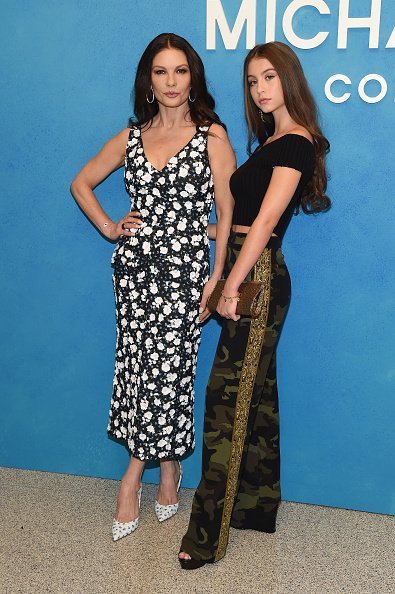 The mum and daughter pair are close, with Catherine having previously described Carys as "modern but age-appropriate," to which Catherine added:
"I've never had to turn to Carys and say, 'I think that's a little inappropriate.' Once she said, 'Mom, I really like this romper.' I went, 'Mmm, but don't you think it's cut a little too long? Shouldn't it be shorter?' She went, 'Mom, you're the only mother in the world that would tell a 15-year-old girl that the romper should be shorter.'"
Family resemblances run thick among the Douglas men too, as people noticed how similar Michael's son, Cameron looked to his father and grandfather, Kirk. 
The striking similarity between the men stood out when Michael Douglas received a Golden Globe for his Netflix series, 'The Kominsky Method,' which Cameron attended with Michael. Hopefully, we will see the Douglas family on our screens for many years to come.