Senior couple married for 70 years die within minutes of each other, hands still joined
An elderly couple recently passed away just minutes of each other while holding hands.
The discovery was made by a nurse at the Mercy Care home they were in, after checking up on them twice in ten minutes.
Francis Ernest Platell, 92, and Norma June Platell, 90, have now been remembered by their daughter, Amanda Platell, who described their life together.
AN INSPIRING LOVE STORY
Nowadays, there aren't many examples of true love around, and now there are even less since Francis and Norma died on January 6, 2019.
The couple was married for 70 years and their relationship was based on love, passion, honesty and a set of good values, which they passed down to their children - Amanda, Michael and Cameron.
According to Amanda, seeing her parents' coffins side by side at the church was heartbreaking, but it was also beautiful because that was how they had spent their lives.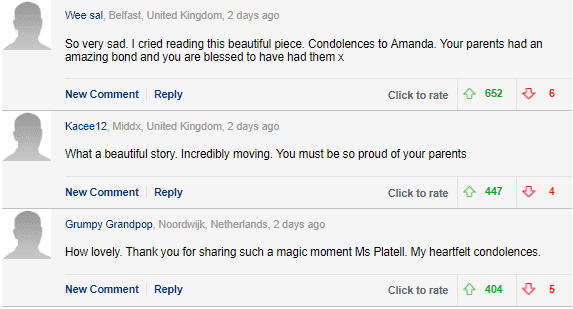 DEVOTION IN THE HARDEST OF TIMES
The grieving daughter explained, in a heartfelt text, that they were inseparable, and even when her mother had to be taken to a nursing home, her father never stopped visiting her.
Every day, Francis would take a cab and spend the day with his wife, who suffered from Alzheimer's, at the home, watching television until June fell asleep on his shoulder.
Francis eventually joined his wife at the care center and they had their own room with individual beds close to each other. They were so connected, in both mind and heart, that they could feel each other's pain.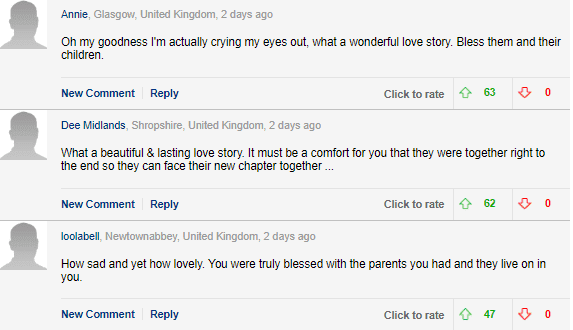 Amanda revealed that, after falling and breaking his hip, her father was bed-bound, and whenever he refused to eat or drink water, his wife would do the same until he agreed.
 Everyone fell in love with the couple's love story, even the cab driver who used to take Francis to the nursing home back in the day. Their deaths, although sad, were also an example of how love can last forever.
Francis and June were married for 70 years but their feelings for each other never faded. They died holding hands minutes of each other because, in Amanda's opinion, that was the way it was supposed to be.
A SIMILAR STORY
A similar story caught the world's attention a few years ago, involving Alexander and Jeanette Toczko, a couple from San Diego, California, who was married for 75 years.
Alexander, 95, and Jeanette, 96, died while lying in the same bed, in each other's arms, just hours apart. Their daughter, Aimee Toczko-Cushman, revealed that that was their wish - to pass away together.
It was reported that, upon learning her husband had died, Jeanette hugged Alexander and said "You died in my arms and I love you. I love you, wait for me, I'll be there soon."