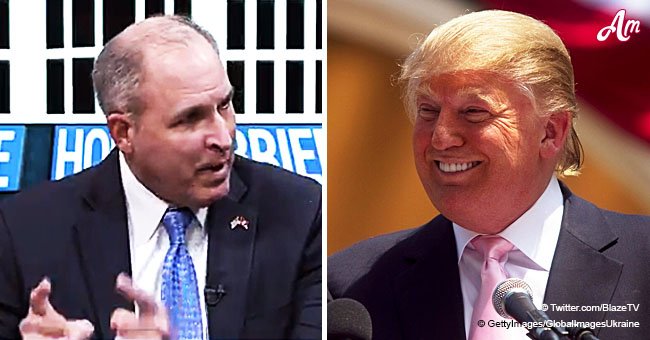 Former Obama Border Patrol Chief is speaking out after 2 years of silence: 'The wall works'
Perhaps unexpectedly, someone who worked in authority under the Obama administration is in full support of Trump's Border Wall.
Mark Morgan was the Border Patrol Chief during the Obama administration. Since he was dismissed by Trump in 2016, he has remained silent on the border wall debate. Until now.
Morgan spoke with the Daily Wire about all things related to Trump and border security. First up, Morgan clarified that he was removed from his position simply because he "was not the right fit" as an outsider.
However, when asked if the wall is the best solution for illegal immigrants, he was confident in his opinion.
He stated:
"The president is right. The wall works."
He explained:
"The wall is a critical element as part of a multilayer strategy of infrastructure, technology, and personnel."
Morgan elaborated on where he is coming from when it comes to his stance on the border wall debate.
"My position is not coming from political ideology. It's coming from 30 years of governmental service."
Through his service, Morgan gained a deep knowledge of how drug cartels work and how they compete to cross the border.
He said:
"They gain control of the drug smuggling routes, the trafficking routes and the illegal smuggling routes in between the ports of entry which is where we need the wall."
For example, in Yuma County, Arizona, crime went down by 90% between 2005 and 2006. Morgan urged people to speak to the sheriff about that case.
He went on to say that we would be able to "shut down drug routes, human trafficking routes, and illegal immigration routes." Clearly, Morgan's thinking was in line with the president's regarding the wall.
Since President Donald Trump is determined to build the wall, Morgan may see it come through. After the 35-day partial government shutdown which Trump ended on Friday, he asserted his unshakeable desire to build the wall.
Furthermore, he is still insistent on the $5.7 billion that is needed to get the wall up. If he doesn't get that amount by February 15, he may shut down the government once again.
The shutdown, which was the longest in US history, led to 800,000 federal employees being furloughed. Many of them missed at least one paycheck during the shutdown.
Both the republicans and the democrats are strongly bent on sticking to their decision to build or not build a wall respectively. Additionally, Trump is doubtful that lawmakers can prepare a deal he will agree to before he imposes either another shutdown or a national emergency.
In an interview with the Wall Street Journal, he said of the chances:
"I personally think it's less than 50-50, but you have a lot of very good people on that board."
Please fill in your e-mail so we can share with you our top stories!