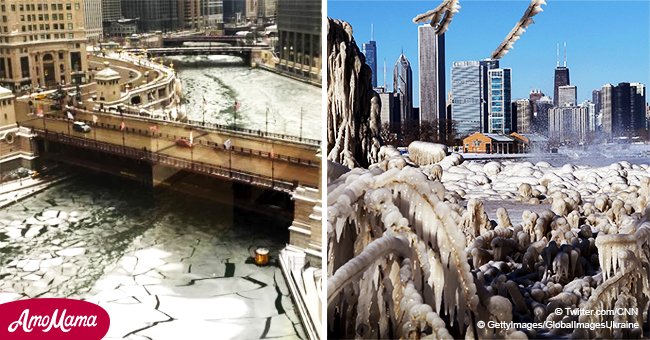 Appalling news: Chicago can expect to be extremely cold this week, colder than Antarctica
Chicagoans are in for record-breaking temperatures this week as a polar vortex sweeps across the Midwest. Wednesday is expected to see -25 degrees.
History shows that the last time the windy city saw temperatures below 11 degrees was once in 1983 and again in 1994. Now, over 20 years later, Chicago is set to experience over 12 degrees below.
Even northern states are feeling the harsh weather. Today, the Milwaukee Public Schools in Wisconson were declared closed. Both Wisconsin and Michigan declared emergencies.
The move is not uncalled for. Two deaths have already been attributed to the brutal weather. A Rochester man was found outside his home on Sunday. He was unable to open the door after forgetting his keys when he was dropped home earlier.
In Illinois, another man died when he was hit by a village plow truck. The driver was put on administrative leave while the Libertyville police investigate.
Authorities in all affected states are urging residents to stay indoors and keep themselves warm.
Illinois' governor J.B. Pritzker warned:
"There is a real risk of hypothermia and frostbite. Even five minutes of exposure can have very severe health consequences."
Residents should be especially mindful on Wednesday when the temperature could become colder than even the most frigid locations on the planet.
The possible -25 below temperatures would beat out places like Barrow, Alaska at 7 below zero and Zackenberg Station, Greenland which is 11 degrees below.
Over 83 million Americans will experience sub-zero temperatures later this week and into the next. More than 1,600 flights have already been canceled for Tuesday and Wednesday.
Senior meteorologist Mike Koch described the coming phenomena. The Indianapolis weatherman warned: "This is polar air. That should tell you something."
For those unaware, polar air, or a polar vortex describes the cold air and low pressure that surrounds the planet's north and south poles.
When it expands, it is sometimes forced lower down into the northern hemisphere. This usually occurs during the winter.
As for how those affected can stay warm, one grandmother gave just the right life hack. For those without a heater, Youtuber user Alaska Granny has a trick.
She saves money and keeps herself warm by using none other than bubble wrap on her windows. One just has to cut the wrap the same size as the window they want to insulate.
Then, spray water onto the window and on the bubbly side of the wrap and press it onto the glass. Make sure to add pressure. The trick is simple but effective.
Hopefully, some of those in Chicago will refresh their memory, come across it, or already know about this and other ways to stay warm and safe this week.
Please fill in your e-mail so we can share with you our top stories!