Plane passenger slammed after fat-shaming her seatmates & complaining about the middle seat
A United Airlines passenger was kicked off her flight after loudly complaining about her seatmates, fat-shaming them and repeating she was being "squished."
In a new episode of 'people being rude on airplanes just because they can,' a woman was caught on video making rude remarks about her seat neighbors aboard a plane from Las Vegas to Newark on January 2.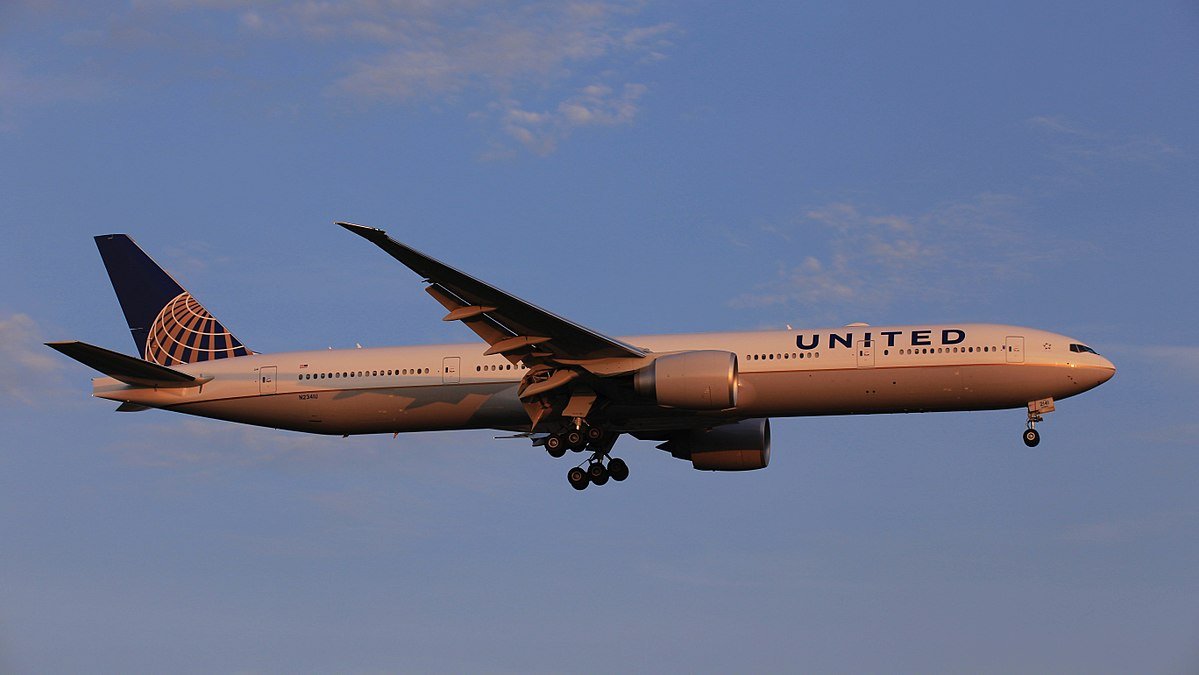 Norma Rodgers and her partner, McKinley 'Mac' Frink, had the window and aisle seats respectively, while the unidentified blonde passenger was in the middle seat. However, the woman felt she didn't have enough space, and loudly complained about being "squished."
THE RUDE PASSENGER STARTS HER COMPLAINTS
The video, recorded by Rodgers and posted on Facebook, starts with the woman moaning to someone on the phone:
"Oh my goodness, I don't know how I'm going to do this for the next four hours. This is just impossible cause they're squishing me. Like, friggin' just unbelievable."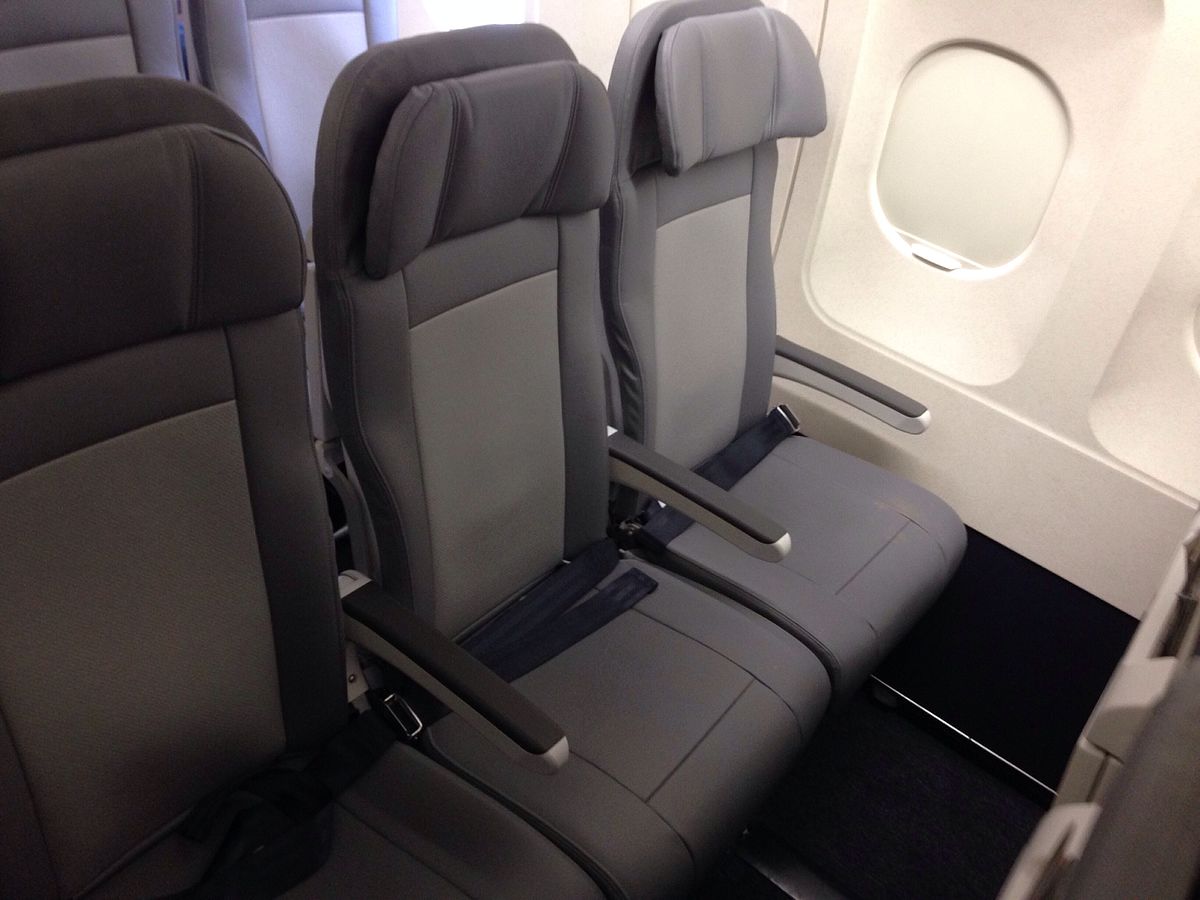 "At least they'll keep me warm," she adds.
Then, another passenger approaches the woman to say there's a chance of getting her a window seat on another row, to which she replies "Find me a window, get me out of here. I can't do this." After a few moments, the person comes back and says there are no other seats available, prompting the woman to say she can't breathe, and she's being squished, again.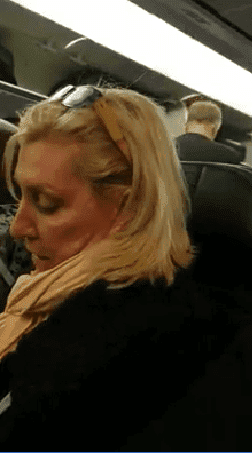 Then, McKinley says something inaudible in the video, and the woman replies with "well, I eat salad."
RODGERS HAD ENOUGH OF THE VERBAL ABUSE
After an awkward moment in which the woman stares directly at Rodgers' camera,  she finally rings a flight attendant and asks for the woman to be moved to another seat.
"Excuse me, can you find her another seat? Because I will not be verbally abused by this b***h or anybody else," says Rodgers, a certified nurse from New Jersey.
"I will not be verbally abused by anybody. I'm not tolerating it."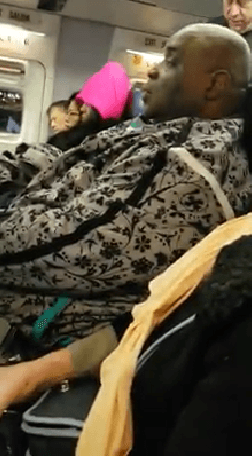 The woman in the middle proceeds to show the flight attendant her situation, saying Rodgers and McKinley are "too big." The flight attendant then offers her to wait at the back of the plane to see if there's another seat available.
As the woman steps out of her seat and into the aisle, she repeats again, "I eat salad."
FELLOW PASSENGERS SPEAK UP
Another passenger then steps in to say the woman should be ashamed of herself for her actions. "I'm not politically correct," she fires back as another passenger says to her "Make America great again, that's a good example."
"Why don't you try and sit between those two pigs?" the woman says to another passenger, prompting Rodgers to fire back with "B***h, kiss my fat ass." She also tells the flight attendant she wants to file a complaint, and a platinum member she's not going to tolerate the disrespect.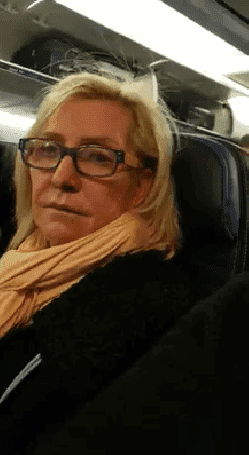 "I am not starting my new year off with this kind of negativity," she added.
Gloria wrote in her original post:
"My old days would have been to beat the b***h's ass. The politically correct Norma called to speak with supervisors and asked that she be moved. Another passenger requested she be taken off the plane. Several passengers informed the supervisor of her behavior."
In the end, the woman was removed from the plane.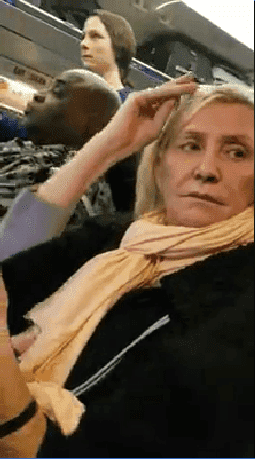 Rodgers also thanked the flight crew for how they handled the situation, writing:
"I would like to say thank you to the flight attendants, supervisor and gate agent that handled the situation professionally and calmly. Thank you for addressing the issue immediately and not letting it escalate any further."
PEOPLE'S REACTIONS
The video has earned over 2.7 million views and 12k comments with mixed reactions. Some people defend the woman and say she was being squished, others agree, but believe the woman could have gone differently about the entire situation.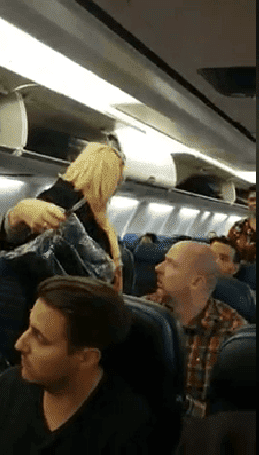 "I fly long distance a lot. 10-hour flight in this condition? Absolute no. But she could have gone to the flight attendant and spoke privately about the room issue. Humiliating humans around you is never ok. Her goal here is not to just change the seat, but to also insult."
"I don't blame her for wanting to move because they were all too big to share that row however she did not need to be a rude cow about it. She could have spoken discreetly to the attendant save feelings being hurt. But oh nope Hilary wanted to be dramatic."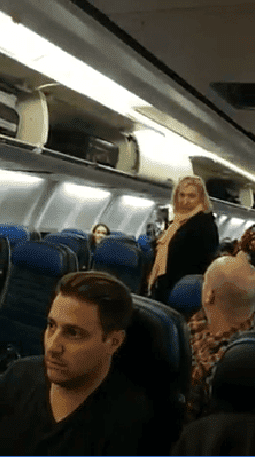 Others were more blatant about the situation:
"Should've paid for first class then, princess."
"So she's gonna act like she's not the size of a linebacker. She is going down the aisle sideways. I hope she gets the same treatment she gave."
ANOTHER UNITED AIRLINES CONTROVERSY
This is not the first time a rude passenger goes viral aboard a United Airlines plane. Last year, there were several similar incidents involving the airline.
For example, in March 2018, Frederick Joseph took to Twitter to share the unpleasant encounter he had on a flight from Austin, Texas, to Newark, New Jersey, thanks to the woman sitting beside him.
He opened his complaint by posting a photo of the woman's feet propped up next to his food tray, calling the action "white privilege."
The audacity of white privilege:

This woman next to me took her shoes off and placed both feet on the table. So I'm waiting for flight staff to say something... pic.twitter.com/ldOIgwiPWi

— Frederick Joseph (@FredTJoseph) March 13, 2018
Joseph explained that after waiting in vain for a flight attendant to notice the situation, he tried to handle the situation by himself. He recalled the conversation on a long Twitter thread: "I say "ma'am, I'm trying to eat, and your feet are next to my food." She says "what do you want me to do; the seats are small." 
So I'm like "I understand, which is why there is room for your feet and legs under the seat in front of you"

So she says "this is why I fly first class, and I don't come back here with everyone else."

So I'm like "that's great, so are you going to put your feet down?" pic.twitter.com/u3ZAOsrnxB

— Frederick Joseph (@FredTJoseph) March 13, 2018
After a back and forth discussion, in which the woman exclaimed "This is why I fly first class, and I don't come back here with everyone else," a flight attendant was finally called to help defuse the situation. After suggesting the woman put one foot down or move them more to the window, she said, "if I put one foot down, I want to be accommodated for accommodating him." 
The flight attendant says... "well what if she puts her feet closer to the window or puts one down"

The woman says "if I put one foot down, I want to be accommodated for accommodating him" pic.twitter.com/NrUHKDj6m9

— Frederick Joseph (@FredTJoseph) March 13, 2018
To Joseph's surprise, the flight attendant came back a few minutes later with the promise of a $1,000 voucher for the woman, for her troubles.
So I ask "what voucher will I be receiving for my suffering"

The flight attendant says "sir, we can only make but so many accommodations, and she has agreed to move her feet for you." pic.twitter.com/617NE2aG06

— Frederick Joseph (@FredTJoseph) March 13, 2018
Stunned about the absurd response, Joseph made a complaint to the airline a few days later, but they allegedly told him that the woman never got the $1,000 vouched she was promised
Basically, United had a woman w/ a Spanish sounding surname tell me there should be no issue because the woman ended up not getting money.

Oh, and racial bias didn't matter here, because again a woman with Spanish sounding name at United says it didn't.

Tone deaf. pic.twitter.com/TH9cT9FbjY

— Frederick Joseph (@FredTJoseph) March 14, 2018
ⓘ NEWS.AMOMAMA.COM does not support or promote any kind of violence, self-harm, or abusive behavior. We raise awareness about these issues to help potential victims seek professional counseling and prevent anyone from getting hurt. NEWS.AMOMAMA.COM speaks out against the above mentioned and advocates for a healthy discussion about the instances of violence, abuse, sexual misconduct, animal cruelty, abuse etc. that benefits the victims. We also encourage everyone to report any crime incident they witness as soon as possible.