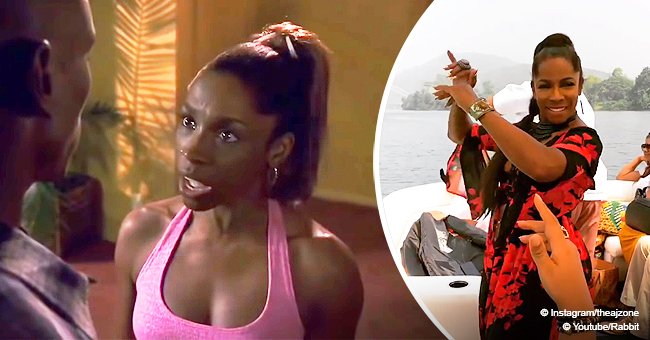 Remember Juanita in 'Baby Boy' film? She dances her heart out on a boat for her 56th b-day in video
Adrienne-Joi Johnson, best known as Juanita in "Baby Boy," took to Instagram to share some photos and videos of her 56th birthday party aboard a boat.
The actress, also known as AJ Johnson, turned 56 on January 2. In one of the posts she shared addressing her birthday, she appeared on a boat in Ghana wearing a beautiful red and black dress paired with a black necklace and some other pieces of jewelry.
Apart from her clothes, the fact that attracted more attention about the clip was that the actress was dancing her heart out while some of the people on the ship were sitting and looking at her showing off her moves.
THE CAPTION AND PEOPLE'S REACTION
For the caption, Johnson wrote,
"When #Capricorns do a birthday cruise up the largest man made river in Africa - Voltra- River/on the way to meet the King. #turnup with my #tribe @kstew222 Cap sista @luvvie and my boy @diggysimmons" [sic].
As soon as she uploaded that clip, her followers took to the comment section to share their thoughts.
"This is so amazing. Thank you for sharing and Happy Birthday," shared one user.
"you really have got the African moves you go pretty," admitted a second follower.
"I love your energy! Your beautiful on the inside and out," pointed out another person.
MORE PHOTOS OF THE ACTRESS
A couple of days later, Johnson uploaded another clip showing some photos wearing the same outfit during her trip to Ghana. The actress is living proof that anyone can look gorgeous and ageless aged 56 in they take good care of themselves.
Johnson joined the 10-year challenge fever but took things to the next level. Instead of posting two pics comparing her 2009 and 2019 looks, she shared three images taken in 1988, 2003, and 2018.
In the caption, the actress revealed,
"I've learned that whatever doesn't fuel your happy-soul deep-has got ta go!!! PERIOD. NO EXCUSES. Happy shows up on you and so does miserable. It's a life choice. Holding on to ANYTHING not workin makes you fat and old. Clearly I have NO interest in choosing either I choose happy" [sic].
HER LIFE AND CAREER
Johnson, a Magna cum Laude graduated in Psychology, not only appeared in "Baby Boy," but also in several others projects, including "A Different World," "In the Heat of the Night," "Fresh Prince of Bel Air," "Amen," "The Jamie Foxx Show," and "Touched by an Angel."
Apart from that, she has been a spokesperson for the American Cancer Society for a while now because she lost her mother to cancer at 16 years of age.
Please fill in your e-mail so we can share with you our top stories!