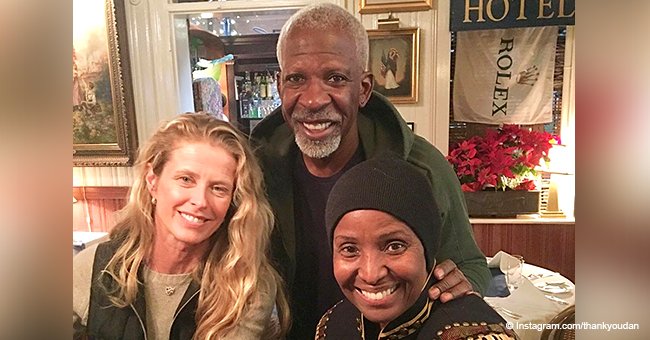 B. Smith's husband claps back at criticism over dating another woman amid wife's illness

Dan Gasby lashed out at the "idiots and ignorant people" who slammed him for having a girlfriend while taking care of his ailing wife of 26 years.
Following the heavy backlash he received for having a girlfriend while tending to B. Smith, his wife who's been suffering Alzheimer's for years, Dan Gasby broke his silence and lashed back at his critics.
In a "Newsflash!" he posted on the B. Smith and Dan Gasby Facebook page, Gasby took offense at those who judged him but didn't know any better.
WHY FANS ARE ANGRY AT GASBY
Gasby was heavily criticized this week when fans responded to news of his girlfriend Alex Lerner's presence in his life despite still living with Smith and tending to her. Fans slammed Gasby for his lack of ethics in bringing his "mistress" to the same home where his wife of 26 years lives.
Gasby has been open about his relationship with Lerner who he met in 2017. At the time, Smith had already been battling with Alzheimer's for years. She was diagnosed with the disease in 2014 after suffering symptoms of dementia years prior.
GASBY'S RESPONSE TO HIS CRITICS
Though Gasby has been nothing but a supportive husband to Smith since her diagnosis, he now reveals having someone to share the struggle with was a huge help for him. In his recent Facebook post, he slammed the "idiots and ignorant people" wanting him arrested for his alleged abuse of his wife and told them,
"I only wish someone in your immediate family has Alzheimer's so you can see feel and experience the pain of millions of people across this country so you can know first hand what it's like to care 24/7/365 for someone who can no longer care for themselves!."
Gasby also addressed the "religious Neanderthal who judge as if Jesus was a ball and God is a bat swinging wildly and judging harshly" and said,
"B Smith's worst day is 10x better than you've experienced."
As for his girlfriend, Gasby honestly confessed that he loved his wife "but I can't let her take away my life!"
He added,
"5-10 years from now when many of you who will have an almost predestined meeting with Alzheimer's because of genetics, obesity, and a myriad of inflammatory diseases, you'll be wishing for someone to share moments with and ease the pain of loneliness and despair."
GASBY'S ALLIES
Gasby has the support of his daughter Dana Gasby who was happy when she heard her father was seeing Lerner. Likewise, Lerner is equally happy to be assisting Gasby in taking care of Smith.
Meanwhile, Gasby also earned the support of some followers who understood his plight.
"There are no right or wrongs to how a couple wishes to live in their love. Anyone who steps outside of those restricting boundaries are seen as odd. The bottom line is everyone is happy. No one is hiding and everyone is getting along. I respect anyone who lives boldly."
Gasby and Lerner met in the summer of 2017 and started out as friends. In the beginning, Lerner was hesitant to go out with Gasby due to Smith. However, she later realized that Gasby who continues to care for Smith to this day wasn't cheating on his wife. He truly cared for Smith and yet needed someone who would also attend to his needs.
Please fill in your e-mail so we can share with you our top stories!