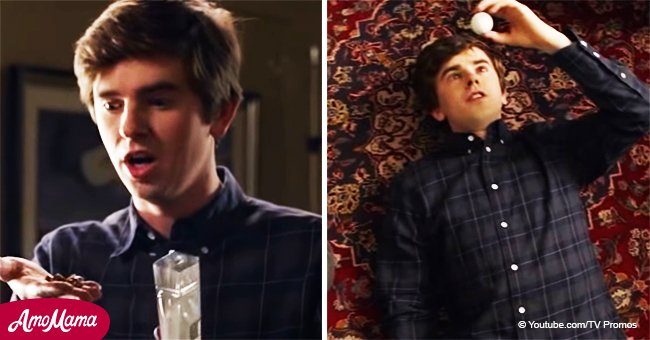 Shaun tries marijuana in new 'Good Doctor' promo: the video says 'Welcome to the high life'
Shaun from "The Good Doctor" experiments with a substance that takes him to new heights, episode 14's promo revealed.
The episode, titled "Faces," will air on Monday at 10 pm EST on ABC. The tagline for the episode is "sometimes you have to ask the hard questions."
Fans can look forward to an emotionally-ridden episode. Dr. Marcus Andrews tries to persuade a family into allowing their daughter's face to be used in a transplant.
In other promos, the doctors can be seen in the operating room, preparing for the procedure. However, one promo shows scenes unrelated to the transplant.
In the short 19-second clip, Dr. Shaun Murphy and Dr. Aaron Glassman can be seen sitting on a sofa when Dr. Glassman grunts with pain.
He asks Dr. Murphy: "Do you know what I need? My meds." Dr. Murphy appears shocked when he realizes his mentor is talking about medical marijuana.
Dr. Glassman explains that it helps "for the nausea," and proceeds to take a capsule. When Dr. Murpphy recovers from the shock, he asks if he can try some too.
Having never ingested marijuana before, Dr. Murphy tries to take a handful, but Dr. Glassman stops him just in time, telling him to take only one capsule.
At one point, Dr. Murphy asked if he is acting normal, to which Dr. Glassman replies: "No, you're acting high."
The promo then shows the two doctors lying on the floor, stoned, and playing with Dr. Glassman's golf kit. The tagline invites viewers to "the high life."
Apart from sharing Dr. Murphy's first marijuana experience, viewers also get to see the tough decisions doctors make daily and how it affects them.
For the transplant case, they need to convince grieving parents to essentially "give up" their deceased daughters face.
Doctors need to find the balance between showing sympathy and compassion for the deceased while remaining positive for their patient who needs the transplant.
The storyline for the episode is painful but thought-provoking as it shows viewers that being is a successful doctor involves more than just surgical skill.
"The Good Actor" propelled Freddie Highmore to fame when he was cast as Dr. Shaun Murphy – a highly skilled medical professional on the autism spectrum.
Highmore, 26, landed his first roles at the age of seven in "Walking on the Moon and "Women Talking Dirty." Fans will also recognize him from "Bates Motel."
The show – and Highmore's superb's acting – takes viewers on a journey of discovery as Dr. Murphy grows as a person.
At the PaleyFest in 2018, Highmore said that "The Good Doctor" is different as it showcases all aspects of the characters' lives. He adds:
"I think, with a character like Shaun, he has to change. He's still the same person, but we get to see that progression."
Please fill in your e-mail so we can share with you our top stories!