Dad cuts open a huge wasp nest in front of his son to find out 'what's inside?'
Dan and Lincoln from the YouTube channel "What's Inside?" have done it again - and this time they have taken apart a wasp's nest.
Dan, a father of three, and creator of "What's Inside?" does all the wet work when it comes to cutting things up and Lincoln, his 11-year-old son, brings the enthusiasm.
The pair created the channel after Lincoln's second-grade science fair project went viral. The video was only about cutting up different types of sports' balls but their channel now boasts over 6-million subscribers.
With there being an abundance of wasp nests around their home, and Lincoln being terrified of them after getting stung four times, Dan decided to cut up a wasp's nest to see what goes on inside.
Not finding a big enough nest in their own yard, they ordered one from eBay, and the one they received is massive and creepy looking, even to them.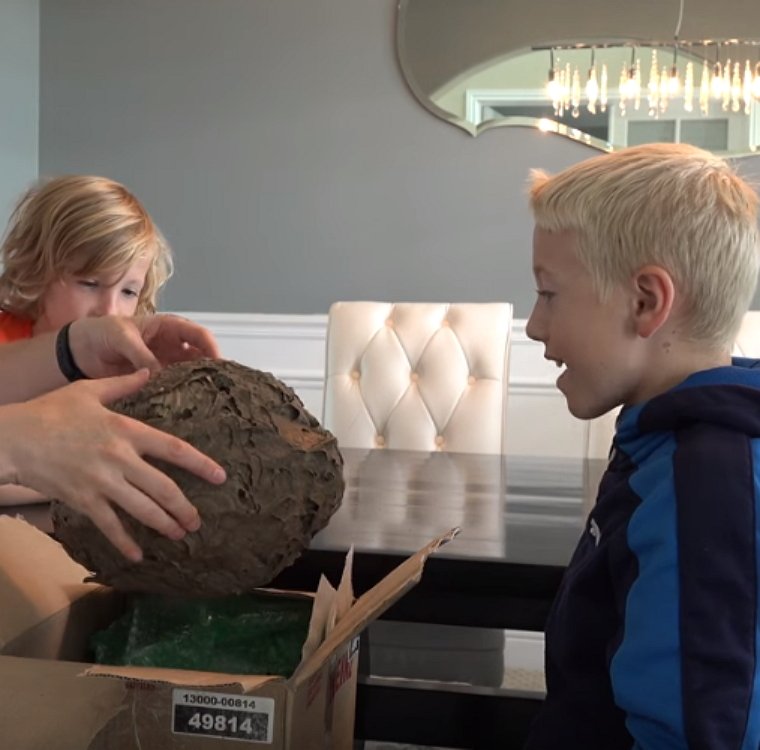 Dan is uncomfortable about cutting it open in the house but eventually decides that it is safe. In the company of Lincoln and one of his school friends, Kai, Dan proceeds to cut the was nest open on the dining room table.
Viewers later commented that the giant nest looked more hornet than wasp, but without finding any insect specimen inside the nest itself, it would have been next to impossible for Dan to know this at the time.
They measure the nest against two different things to gauge its size. It turns out to be bigger than both a soccer ball or a basketball.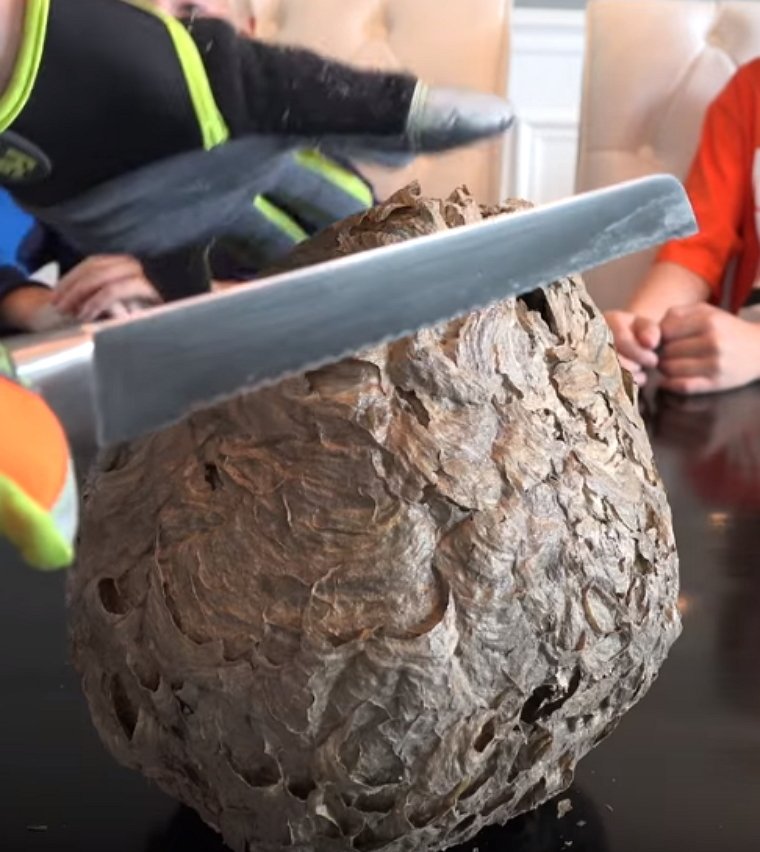 Dan starts slowly sawing into the nest with what looks like a bread knife, and pieces of the fragile nest start to shear off onto the table. Lincoln quickly grabs a piece as a "sample" to show his friend.
After a considerable amount of time, the nest is in two pieces and the boys begin to inspect its contents. It's truly amazing to witness the intricate design inside the nest created by these little creatures.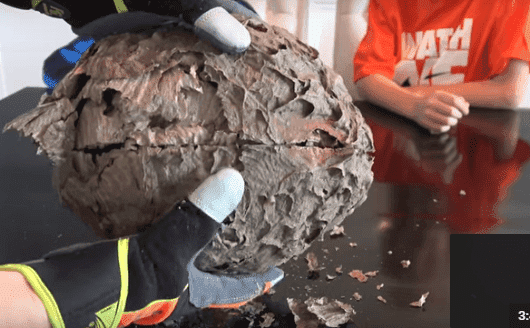 Dan, in typical dad fashion, pretends he has a live wasp in his half of the nest, making Lincoln scramble for cover screaming.
If you have always wondered what was inside the wasp nest outside your door, you can wonder no more, thanks to Dan and Lincoln.
If the thought of ordering a nest on eBay is not for you, then this story certainly won't make you feel any less creeped out.
An American family near Memphis heard buzzing in the very walls of their home and called in the specialists. An exterminator proved useless, so they called in a "Bee Whisperer."
After using infra-red technology on the walls, the position and size of the hive was identified and it took a considerable amount of time before the 3 foot wide and 5 foot tall hive was exposed.
The entire honeycomb was removed without injury to the bees, a little insect that is absolutely necessary for the continuation of life on Earth, much to the family's relief.