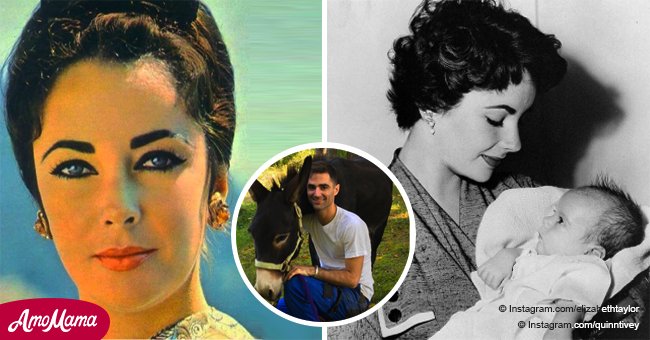 Elizabeth Taylor's Grandson Is All Grown up and Has Inherited Her Exceptional Beauty
Elizabeth Taylor is known as "The Queen of Hollywood" and has won many awards during her acting career, however, her grandson is now the one stealing hearts.
Not only is Elizabeth Taylor celebrated for an outstanding career spanning decades, which included films such as "Ivanhoe" and "Cleopatra," but she is also idolized for her entrancing beauty.
Her name is synonymous with the Hollywood Golden Age, and her legacy lives on in her children and grandchildren.
Quinn Tivey is one of Elizabeth Taylor's ten grandchildren and has inherited her famous good looks. Surprisingly, he does not often post pictures of himself online and chooses to focus on his work instead.
Tivey is currently upholding the family legacy by being an ambassador of The Elizabeth Taylor AIDS Foundation and continuing the charity work begun by his grandmother.
Tivey does not let his celebrity ancestry go to his head, saying:
"I always just knew her as Grandma. She was the woman I could lie in bed with to chat and watch movies. We didn't experience her as a movie star."
Two of Taylor's children are products of her second marriage whilst her third marriage bore her a daughter, Liza Todd, Quinn's mother.
While her on-again/off-again relationship with Richard Burton was the most publicized, the couple had no biological children, adopting their daughter Maria together instead.
Both of her sons followed in her footsteps and became actors, while Liza chose to become a sculptor, and Maria is a successful producer in a company she runs with her four Burton sisters.
Elizabeth Taylor sadly passed away in 2011, but she is survived by her four children, her ex-husband John Warner, and of course, her work in film, television, and activism.
Please fill in your e-mail so we can share with you our top stories!