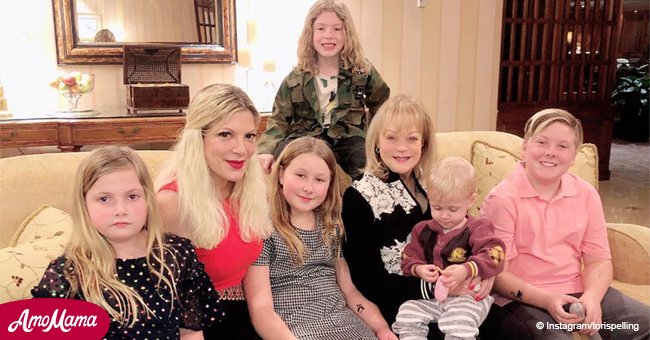 Tori Spelling and her $600M-mom reunite in a rare photo with kids amid financial problems

Tori Spelling and her mother Candy appear to be mending fences as Tori posted a picture of the family as they spent time together over the weekend.
The strained relationship between 45-year-old Tori and her mum, Candy, 73, had a lot of up's and down's over the years. However, Candy spent some time with Tori and the rest of the family over the weekend and posted some cheerful snaps of them together to Instagram on January 28.
The post showed two pictures of Tori with the family, including Candy as they gleefully smiled for the camera. In the one snap, Tori along with her five children, Beau, 1, Finn, 6, Hattie, 7, Stella, 10, and 11-year old Liam, shared a big comfy couch with grandmother Candy with smiles all around.
The second picture shows Tori and her husband Dean McDermott along with several friends, Candy and the kids looking relaxed while spending time together.
The 'Beverly Hills 90210' vet captioned the happy snaps:
"As a family, we did some fun things this past weekend, but the highlight was Sunday night dinner with Grandma @candyspelling and our special friends from Tunisia! Xoxo."
Judging by the pictures, Tori and her mother, Candy seems to be ironing out their differences, which Candy wrote about in her memoir, 'Candy at Last,' in 2014.
In the memoir she spoke of her feelings regarding her strained relationship with Tori, as she wrote:
"Tori and I are a work in progress and probably always will be. I notice that the more my self-esteem expands, the less patience I have for the pursuit cycle she creates when she shuts me out. We have a pattern, and until we can break it hand-in-hand, this is going to be the little dance she and I do together."
Grandmother Candy also elaborated on financial issues, and partially blamed it for her and Tori's inability to consistently have a good relationship and said:
"My husband and I handed everything to our children, only later to realize that pushing up your shirtsleeves and digging in your heels is character building."
While Candy went about promoting her memoir, she told The New York Times of Tori's over-the-top shopping sprees, that Tori "would close a store and drop $50,000 to $60,000" and added that Tori "just went crazy."
According to Candy, Tori only inherited $800,000 of the estimated $600 million fortune left by her father, Aaron Spelling after he died in 2006.
In October 2018, a source told US Weekly that Candy and Tori had been actively working on their issue, and are closer than they have been in years.
However, spending exuberant amounts of money is not an option for Tori in the foreseeable future, as she charged with having to pay back $88,246.55 to American Express in credit card debt.
In January 2016, Tori also got sued by American Express for $87,594.55. The following year both Tori and Dean got sued by City National Bank for almost $200,000 over an unpaid loan.
At least amid all the financial troubles, the relationship between her and mum Candy is improving.
Please fill in your e-mail so we can share with you our top stories!