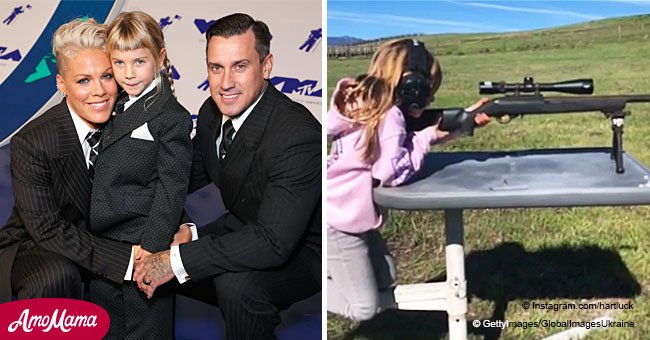 Pink's husband Carey Hart is under fire after filming daughter Willow, 7, shooting a rifle
Fans are up in arms after Pink's husband, Carey Hart, shared a video of their daughter posing with a shotgun.
The video shows seven-year-old Willow, and Hart joked in the caption that he hasn't "poked the parent police bear in a few days." He added:
"Willz and I shooting the 22 rifle. She is getting pretty good. Can hit a 12-inch pie plate from 30 yards. Started her shooting at 3yrs old."
He explained that they don't hunt, "just enjoy shooting for sport." Hart said he is the raising his children "with the knowledge of firearms."
Hart believes that it is important for children to know "how to handle them, shoot them, store them, and avoid them in uneducated hands."
This isn't the first time Hart ruffled feathers with his and Pink's fanbase. Back in 2018, he was criticized for taking his sick son out in public.
Then 20 months old, Jameson Moon had been diagnosed with the contagious hand-foot-and-mouse disease. The backlash didn't seem to bother Hart.
Four months later, Hart took Jameson for a ride on a dirt bike. During the California wildfires, Hart threatened to shoot looters.
Despite the backlash they receive from fans and critics, the couple continues to post photos on their social media platforms.
Pink and Hart celebrated their 13th anniversary at the start of the year. They met back in 2001 but briefly parted way two years later.
They eventually reconciled in 2005. Pink was the one to pop the big question, and they exchanged vows seven months later.
Pink has a big month ahead. On February 5, she will be honored with a star on the Hollywood Walk of Fame for her contribution to the music industry.
Ellen DeGeneres will join her for the ceremony, and Hollywood Chamber of Commerce Chief Operating Officer Rana Ghadban will emcee the event.
Please fill in your e-mail so we can share with you our top stories!