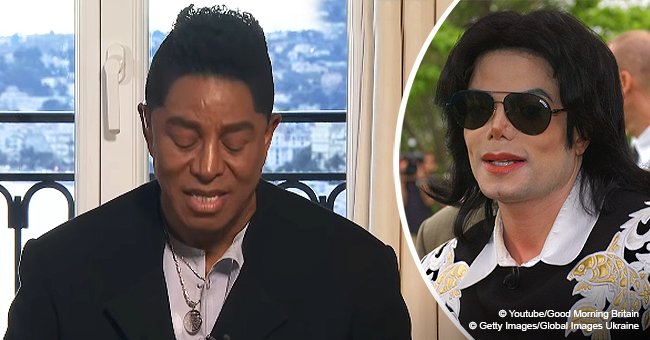 Just leave him alone,' Jermaine Jackson defends brother Michael after 'Leaving Neverland' premiere

Jermaine Jackson defended his late brother, Michael Jackson after the new documentary "Leaving Neverland" premiered at the Sundance Film Festival last week.
Jermaine Jackson slammed the new documentary "Leaving Neverland." The documentary premiered at the Sundance Film Festival on Friday last week.
It puts forth some damaging and intense claims against the late Michael Jackson. His brother Jermain immediately came to his defense.
The four-hour exposé will premiere on HBO later this year. It focuses on claims from James Safechuck and Wade Robson.
The two claim they endured years of abuse from Jackson. They allege he displayed inappropriate behavior and manipulation towards them.
During an appearance on ITV's Good Morning Britain, Jermaine, 64, defended his brother. The host then asked if he was certain that Jackson was innocent.
Jermain responded, "I'm a thousand percent sure because Michael was tried by a jury and he was acquitted on all of this because there was no real evidence. There was nothing there. I will say this, our family is tired, very tired. Let this man rest. He did a lot for the world, let him rest. I will say this, there is no truth to this documentary."
He reminisced and revealed to hosts Susanna Reid and Piers Morgan about his brother. He spoke about allegations of Jackson sharing beds with young boys at his Neverland ranch saying,
"Those were slumber parties. What they didn't tell you was that there were girls there even with their parents, uncles, they were sitting down watching movies, having cookies, having fun, popcorn, watching films. Michael said, 'Why do people relate the bed to sex?' which shows his innocence. Michael's a big kid. We are living in a time when people can say anything and then it's taken as truth… they would rather believe a documentary than what was said under oath."
"We are still mourning… just leave us alone, leave him alone. Let him rest, please, let him rest. He deserves to rest," said a distraught Jermaine.
In a statement on Monday, the Jackson estate also spoke out against the documentary. They revealed that the estate remains "proud of what Michael Jackson stands for."
"People have always loved to go after Michael," the statement continued. "He was an easy target because he was unique. But Michael was subjected to a thorough investigation which included a surprise raid of Neverland and other properties as well as a jury trial where Michael was found to be completely innocent. There has never been one piece of proof of anything."
Please fill in your e-mail so we can share with you our top stories!