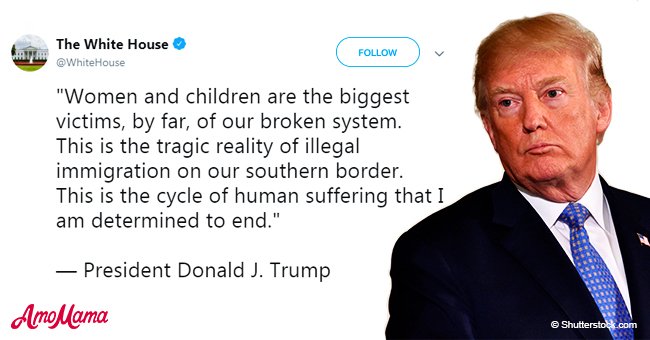 President causes backlash for calling women and children 'biggest victims of our broken system'

A quote by the current US President tweeted by the White House citing open borders as an opportunity for human traffickers made Trump detractors jump at him to question his immigration policies and true motives.
On January 30, a series of tweets by the White House tried to make a case for Trump's focus on border security, mentioning among other things the way human traffic affects the most vulnerable populations.
Words attributed to Trump, on which he refers to what is happening at the southern border as "tragic" resonated negatively among his critics, who were quick to point out to his responsibility on keeping children "in cages" and separating families.
"Women and children are the biggest victims, by far, of our broken system. This is the tragic reality of illegal immigration on our southern border. This is the cycle of human suffering that I am determined to end."
-Donald Trump, Twitter, January 30, 2019.
While he has a supportive base that expressed support, those who disagree with his position on immigration were quick to reply to his message, calling him out for the treatment illegal immigrants are receiving.
"They are victims because of your separation & deportation policies," wrote user Bryan Flaherty. "Fix the system to help the vulnerable not build a wall for show," @darbrarian said.
"So, a huge boost to processing asylum claims is coming? Perhaps a massive increase in places for asylum seekers?" wrote @mikefnq.
"Or maybe Trump is disingenuous. He doesn't care about people suffering. It's just an excuse to keep brown people out," the same user added.
"When they cross the US border Trump puts them all in cages & gives them little aluminum blankets where they get sick, die, and are treated like animals, some have been raped, so how is what @realDonaldTrump's doing any different?" asked another netizen.
Those opposed to the Trump's administration have repeatedly accused the billionaire of using fear mongering to gain support for his controversial plans for the southern border, which include but are not limited to the ill-famous wall.
Claiming to be working for the country's defense, Trump has portrayed Latin American immigrants as "drug dealers, criminals, rapists," "stone cold criminals," and "animals."
Because of such statements made by Trump since he announced his intentions to run for president, his critics are finding hard to believe his worries for the well being of immigrants, which explains the negative comments aimed at him now.
By October 2918, 13.000 migrant children were held in detention centers across the US, also called "tender age shelters," which are operated by private companies that profit from the aggressive policy.
Several workers from these detention centers have even been charged with sexual abuse, adding more horror to the entire situation.
Recently, a particular case involving a 1-year-old who was separated from her mother at their arrival to the US seeking asylum.
The press widely covered the moment when the Honduran woman finally reunited with her daughter after spending one month apart.
23-year-old Sindy Flores was separated from her partner Kevin Ventura-Corrales and her 17-year-old daughter as soon as they reached the border crossing at Calexico, California on December 28, 2018.
The child was put under the custody of the Immigration and Customs Enforcement Office and transferred to a shelter for migrant children in Texas.
Flores spent a month of uncertainty and anguish trying to reunite with her daughter with the help of a lawyer, fearing her child was going to suffer psychologically because of the absence of her mother at such a young age.
Please fill in your e-mail so we can share with you our top stories!