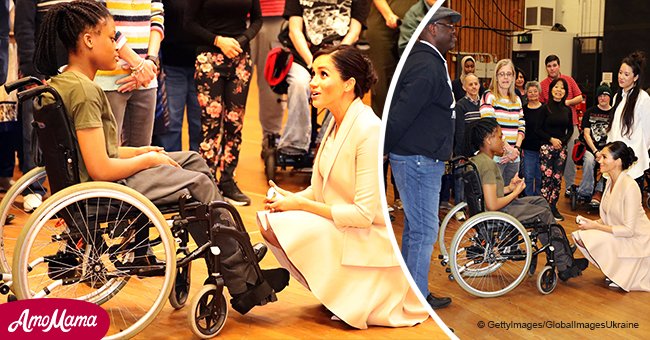 Meghan is all smiles meeting a teen actress in a wheelchair, and their lovely photo is moving

The Duchess of Sussex paid her first official visit to the National Theatre in London, and she felt right at home as the director called her new patronage a "natural fit."
During the visit on January 30, Meghan met with community actors and backstage apprentices and watched talented youngster perform a 'War Horse' inspired piece.
Now heavily pregnant, Meghan arrived in a monochrome look as she wore a V-neck minidress by Brandon Maxwell and a blush-colored jacket, and paired it with white Aquazurra Matilde crisscross pumps along with a Metropolitan Insignis clutch by Carolina Herrera.
With Meghan's history as an actress, her background is ideally suited to the new patronage she took over from the Queen as Rufus Norris, the director of the National Theatre on South bank remarked:
"It's a natural fit because she knows what a rehearsal room is, she knows what dressing rooms are and is passionate about the impact the arts can have. The Duchess is a very dynamic new member of the royal family, and so there is a lot of interest around her, and I think particularly because this relationship makes absolute sense for us and for her."
The director even joked that Meghan would soon have her own "production" ready as he added:
"We had a very, very good relationship with Her Majesty the Queen and are massively grateful of the work she has put in to support this organization since she became our royal patron in 1974, but I think time moves on and if a change is going to happen we couldn't be more delighted in the way that it's gone."
As part of the visit, Meghan learned about the theatre's programme to bring stage drama to school children and got briefed on how they adapted the theatre's hit production, 'The Curious Incident of the Dog in the Night-time" which toured to 60 schools.
It just so happens that Meghan and Prince Harry went to the West End version of the same show on their first outing as a couple in December 2016.
Londoner's part of the community program gave Meghan a short performance out of their Shakespear production, 'Pericles' and met with some of the cast members afterward. One of the cast members, 13-year-old wheelchair bound, Blessing was over the moon when Meghan made a point of speaking with her regarding the company's next performance.
Towards the end of her visit, Meghan watched adorable school children perform their inspired version of 'War Horse' and shared some words with them afterward.
10-year-old Kroni Pacolli was star struck as she spoke of her talk with the Duchess:
"I never thought I'd perform in front of the royal family and meet a royal! I've only ever seen her on TV. I'm speechless."I'm speechless. She came and shook my hand, and I'm never going to wash this hand again!"
However Meghan's visit was a surprise to the children, they got told they'd be performing for a "VIP," but they didn't know who it was until the Duchess showed up, as little Kroni added:
"I thought maybe it was the Duke of Edinburgh or George Ezra. But then when they said it was a female VIP, I thought, 'Yes! Rita Ora!' "
While Meghan stunned in her $1,895 Brandon Maxwell V-neck mini dress, which has sold out on Moda Operandi, she constantly cradled her baby bump. Since her bump started showing, she is often seen with a protective hand under or over her growing stomach.
And hypnobirthing expert, Katharine Graves explained why it was natural to do so from a "biological perspective" as she said:
"Placing your hands on your bump comforts the baby, comforts you and helps create the optimum conditions for labor."
Please fill in your e-mail so we can share with you our top stories!