Meghan Markle shows off her elegant bun, rocking all-black outfit for university visit
Duchess Meghan Markle, who has been married to Prince Harry since May 2018, attended a meeting at the City, University of London rocking a beautiful ensemble.
In the photos taken during the event and posted to the Kensington Palace Instagram account, Meghan appeared wearing a black Givenchy coat (the same that she wore on Remembrance Sunday in November 2018) covering her black dress.
Apart from that, she put on nude heels that gave her outfit the final chic touch. Aside from her clothes, the aspect that attracted more attention was her hair as she styled it in an elegant bun on top of her head.
As soon as Kensington palace uploaded that slideshow, followers took to the comment section to share their thoughts.
"Amazing high bun! So glad to see Meghan keeps coming up with new style ideas like this! It looks like she's found her real Duchess style this year," commented one user.
"She's so comfortable in her own skin. A lovely girl!" admitted a second person.
TALKING TO STUDENTS
Meghan visited the university because she is the new patron of the Association of Commonwealth Universities (ACU) in London, a role that Queen Elizabeth gave her. During her time at the University, she met and spoke to some groups of students from across the world in charge of investigations such as disability, sustainability, peace, and reconciliation.
ADDRESSING EDUCATION
The Duchess of Sussex has always been involved in two significant topics: education and women's wellbeing. During her first speech at Fiji in October 2018, she discussed her own struggles to finance her higher education – she graduated with a joint Bachelor of Arts degrees in theater and International Relations at the prestigious Northwestern University in Illinois.
One of ACU primary tasks is to manage international scholarships schemes to offer "life-changing" opportunities to people educational-wise. Thanks to this patronage, Meghan will be able to help people have a better education, fulfilling the first topic of the two mentioned previously.
HELPING TO IMPROVE WOMEN'S WELLBEING
She might also accomplish the second aspect as she met Dr. Ephraim Kisangala, a Commonwealth Ph.D. scholar from Uganda who is studying Public Health and Health Promotion at Bangor University, during her time with the ACU.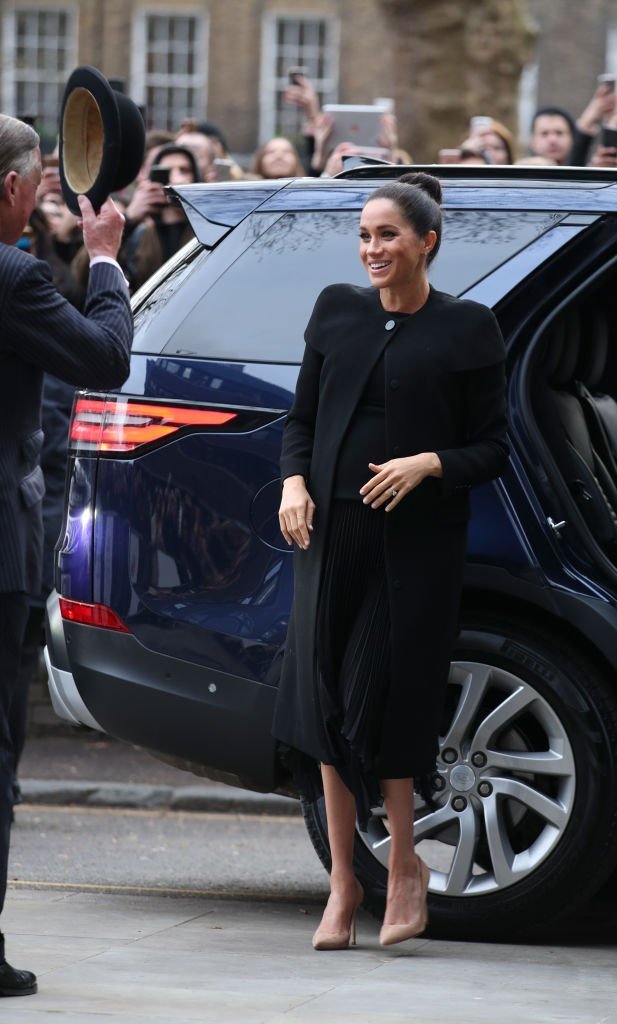 The man spoke to Meghan about his thesis on menstrual hygiene management in refugee settlements in his country, an aspect that she is very concerned about as she has talked about it in the past.
On International Women's Day 2017, the Duchess, who was not a member of the Royal family at the time, raised her voice against the stigma surrounding menstruation. She focused primarily in impoverished countries where women, especially young girls, are shamed for starting their periods.
Pregnant Meghan Markle Goes Casual for Lunch with New Press Secretary in London https://t.co/f3W9VeL9Yz pic.twitter.com/USYKHPJxtE

— Lisa Mapasro (@LisaMapasro) January 20, 2019
The ACU was established in 1913, and it is one of the world's oldest and best international university networks. At the moment, it has more than 500 members institutions in over 50 countries.
It is not the first time that Meghan makes headlines over her clothes. On January 19, the 37-year-old pregnant lady appeared wearing a casual outfit that attracted the attention of the Internet for its defiance of more polished and fancy styles expected from a Duchess.