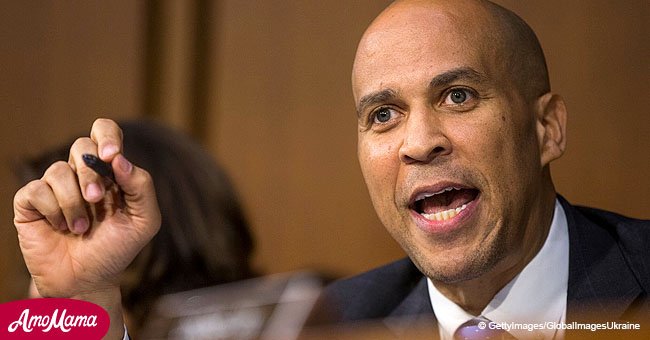 Democratic senator Cory Booker announces he's running for President in 2020

Cory Booker announced his presidential bid for the 2020 elections with the slogan "We Will Rise."
The New Jersey Senator posted a video to his Twitter account in the early hours of Friday. In it, Booker, 49, walked through suburban streets as he spoke about a "common purpose" in the country.
Booker is the second African American candidate to make the announcement. In the tweet, his caption read simply: "I'm running for president. Join me on this journey." The clip of him signing the form and that of his campaign is found below.
The over two-minute video features historical tapes of civil rights leaders and protests. It also showed Booker interacting with a variety of people in a positive light.
He said:
"I believe that we can build a country where no one is forgotten, no one is left behind; where parents can put food on the table; where there are good-paying jobs with good benefits in every neighborhood."
Words of congratulations and support littered the comment section of Booker's Twitter feed as he reposted messages from fans.
He continued in the video:
"[We can have a country] where our criminal justice system keeps us safe, instead of shuffling more children into cages and coffins; where we see the faces of our leaders on television and feel pride, not shame."
The Stanford University and Yale Law School graduate is among a highly diverse group of candidates who will campaign for the 2020 elections.
Booker urged in his speech:
"It is not a matter of can we, it's a matter of do we have the collective will, the American will? I believe we do. Together, we will channel our common pain back into our common purpose. Together, America, we will rise."
He is joined by other Democratic senators including New York Senator Kirsten Gillibrand, Massachusetts Senator Elizabeth Warren, and California Senator Kamala Harris.
Booker served as mayor of Newark, New Jersey in 2006 until 2013. That year, he ran for and was elected as Senator of the same state. Three years later, Donald Trump was elected as President.
The president intends to run again in 2020. Another candidate who may run against him is Starbucks CEO, Howard Schultz.
Schultz appeared in an interview on CBS' "60 Minutes" to announce that he was considering running. He slammed the current administration, calling it "a reckless failure."
Trump wasted no time in hitting back at the ambitious businessman. He tweeted a response soon after.
It read:
"Howard Schultz doesn't have the 'guts' to run for President! Watched him on @60Minutes last night and I agree with him that he is not the 'smartest person.' "
However, Schultz had explained himself when he said he wasn't "the smartest person in the room."
He said in the interview:
"In order to make great decisions about complex problems, I have to recruit and attract people who are smarter than me and more experienced, more skilled, and we've got to create an understanding that we need a creative debate in the room to make these kinds of decisions."
The decision to run for president is certainly a tough, complicated one. We hope that the new candidates are genuine and effective in their coming campaigns.
Please fill in your e-mail so we can share with you our top stories!