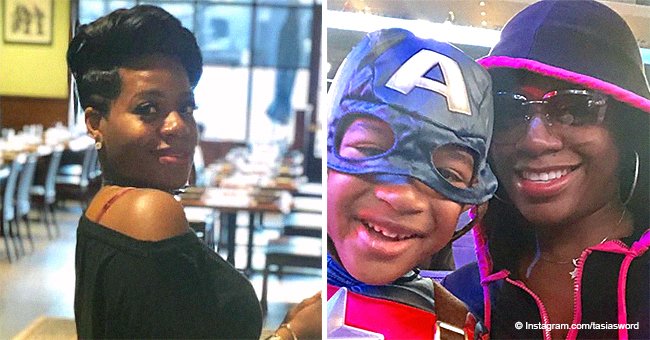 Fantasia Barrino's son Dallas rocks Captain America costume on 'date' with his mommy
Fantasia Barrino, the singer known for winning the third season of "American Idol," took to Instagram to share the "mommy and son" date she and her child had at the Marvel Live Show.
In the slideshow that the singer uploaded, she appeared wearing a dark blue and pink hoodie and glasses flashing her smile at the camera. Her son, Dallas, was sitting next to her wearing a Captain America outfit.
Next to them, a boy wearing a Spider-Man costume and another lady only known as Lex, who was probably the other child's mother, were also posing for the photo. In the second image, Dallas and his Spider-friend appeared striking their best superhero poses.
PEOPLE'S REACTION
For the third pic, Lex's son, Dallas, and Fantasia took a selfie. The last image portrayed Dallas and the singer smiling at the camera. In the caption, Fantasia wrote, "Mommy and Son Dates," adding the hashtag #MarvelsUniverseLive.
As soon as the singer uploaded that slideshow, her followers took to the comment section to share their thoughts.
"How sweet! So happy to you with your baby.... and I'm sure Zion is all grown up too," wrote one user.
"Nothing like that quality time especially on a beautiful day like today much love having g fun," [sic] admitted a second follower.
"He's getting so big," said another person.
MORE PHOTOS OF THE BOY
Dallas, born at Presbyterian Hospital in Charlotte, North Carolina on December 13, 2011, has melted the hearts of Fantasia's fans previously with different photos. One of them portrayed the boy wearing adorable blue pajamas with cartoon characters printed on it.
A couple of children also wearing pajamas were next to Dallas, who was caught in camera mid-dancing. The entire moment appeared to be extremely fun for the children, who got toys in their hands and were dancing with Fantasia's son.
For Dallas' seventh birthday, the singer also took to Instagram to share a now-delated video of the boy celebrating the milestone. In it, Dallas appeared wearing a black hoodie with a Snoopy print and reading a SpongeBob SquarePants birthday card next to a friend.
FANTASIA'S STORY WITH DALLAS' FATHER
Dallas is the result of a tumultuous relationship between Fantasia, ex-boyfriend Antwaun Cook and his wife, Paula. In August 2010, Paula filed divorce papers and sued Fantasia for dating Antwaun for a year even though she knew he was still married.
Paula brought up the subject of alienation of affection laws in North Carolina. However, a judge ruled in Fantasia's favor in December, stating that Paula and Cook had ended their relationship in September 2009.
A year later, Fantasia announced she was pregnant with her second child but didn't reveal who was the father, although fans assumed it was Antwaun, and they were right. The man and Paula eventually got back together, and he and Fantasia are on good terms, and they co-parent Dallas.
Please fill in your e-mail so we can share with you our top stories!