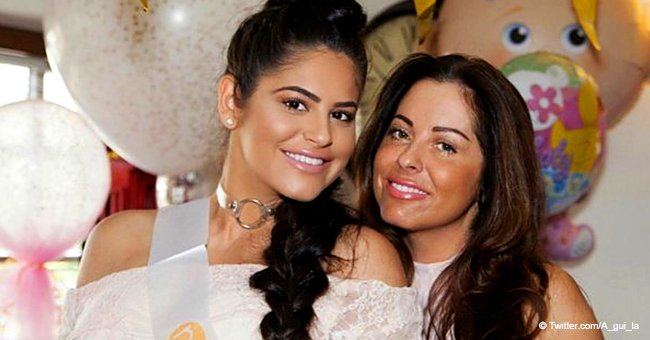 Flashy grandma, 45, says she's often mistaken for 22-year-old daughter's sister, and it's clear why

Becky Brown, a 45-year-old grandmother from Essex, England, has a youthful look; so much so that people often believe that she and her 22-year-old daughter are sisters.
One of the most impressive aspects of it is that Becky's daughter, Scarlett, is a former Miss Teen Queen UK, proving just how beautiful both ladies are. Even though the grandmother-of-one said that confusing her with Scarlett's sister was flattering, she can't take any of the credit.
Becky admitted that she has no special diet, doesn't follow a fitness plan, and doesn't have a specific beauty regime. She pointed out that her look is related to "good genes" as her mother, who is almost 85 years old, has always been "very glamorous."
BECKY'S THOUGHTS
"Me and Scarlett are very alike in a lot of ways. Not just looks but also our personalities. We're very close. She loves to raid my wardrobe. Even when she was little, she would be in there putting on all my makeup and trying on clothes and shoes," [sic] revealed Becky.
Apart from that, the 45-year-old lady, who will welcome her second grandchild in a couple of months, admitted that she and Scarlett have similar fashion-related tastes and were size 8, so they often wear each other's clothes.
SCARLETT'S LIFE
Scarlett, who won the Miss Teen Queen UK contest in 2011, has a 20-month-old daughter named Arabella Ray and is seven-months pregnant with her second child. The family labeled both babies as "miracles" due to Scarlett early Leukemia diagnosis.
When she was only nine years old, doctors found the bone marrow cancer and told her family that she might never conceive. Thankfully, she beat the disease and has been living her life at her best.
Scarlett also said that people tend to believe that Arabella is Becky's daughter and that they get surprised when the girl calls Becky "nan" (the British informal way to call one's grandmother).
Finally, the pregnant 22-year-old lady admitted that she would love to look like her mother at her age. Becky is not the only mother with a youthful look, though.
REESE WITHERSPOON AND HER DAUGHTER AVA
One of the most popular ones is Reese Witherspoon. Recently, the actress, her daughter Ava, and her mother Betty got together for a photoshoot with Vogue Magazine.
In the photos, their uncanny similarity shocked everybody, who consider that Reese and Ava could easily pass for twins.
Please fill in your e-mail so we can share with you our top stories!