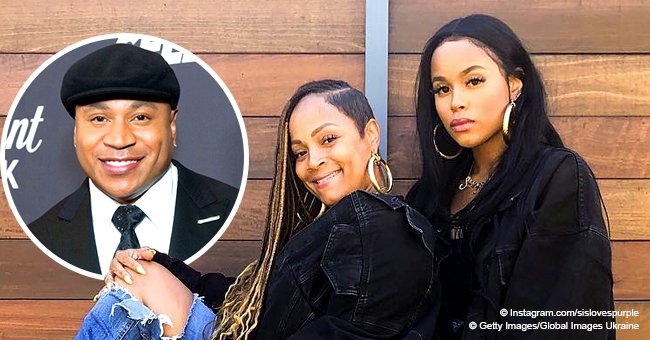 LL Cool J's wife & daughter display strong genes, looking like sisters in pic
Simone Smith is a sight to behold as she poses next to her daughter Samaria in a new pic shared to Instagram. The mother-daughter duo looks stunning in casual outfits as they promote Smith's new jewelry line.
Simone Smith and her second eldest daughter, Samaria Leah, showed off their striking resemblance in a recent pic shared by the matriarch of the family on Instagram.
In the pic, Simone could easily pass as Samaria's elder sister, rocking ripped jeans, a black denim jacket, black sneakers, and braids. The 23-year-old girl, on the other hand, wore a similar outfit, with jeans, a black t-shirt, a black jacket on top and Balenciaga sandals.
Both accessorized their outfits with large tri-color golden hoop earrings from the Sister Love collection, a jewelry line founded by Simone and long-time friend, Mary J. Blige.
"Giving Queen vibes with my baby"@sisterlovemjb," Smith captioned the pic.
Fans flocked the comment section to gush about the Smith girls, with most agreeing that they could easily pass as sisters, complimenting Simone on her youthful looks.
"Who's the mama because if I didn't know you, I would think you where the daughter," wrote one user, while other said Simone's DNA "is strong," and stating she and her daughter are "gorgeous."
Simone and LL Cool J have been married for 23 years, and they share four kids: daughters Italia Anita, Samaria Leah and Nina Simone, and son Najee.
The couple met in the '80s when they were still teenagers, and after being introduced by a friend, they started dating, finally tying the knot in 1995. However, it's been a bumpy ride for the Smiths, as they have faced difficulties that put their faith to test and strengthened their bond as a family.
In 2004, Simone was diagnosed with a rare form of bone cancer known as chondrosarcoma on her leg. She went under several surgeries that left her bedridden, and she had to learn how to walk all over again.
LL Cool J, always the doting husband, had to sacrifice his career at the time to be with Simone in every step of the way. He put his professional life on hold while being the number one support for his wife.
"You don't abandon someone in that foxhole, you know," the star revealed in an interview with Oprah. "You got to be there in that foxhole with them. So I made some decisions professionally and decided to be by Simone's side during that period."
Smith has become a huge advocate, raising awareness and money for cancer research, and getting involved in every project that serves to keep on fighting the disease.
Her most recent move was made with the Sister Love jewelry line, where a part of the profits earned by every piece sold goes to the American Cancer Society.
Please fill in your e-mail so we can share with you our top stories!