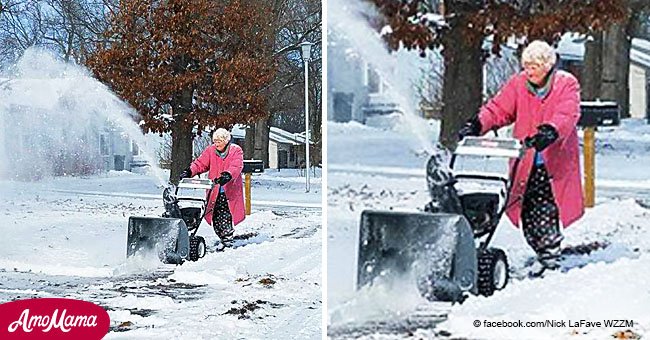 Michigan grandma in pink coat, 82, goes viral for snowblowing her driveway in the freezing cold

An 82-year-old woman named Marlene Fisher Downing caught everyone's attention after being photographed snow blowing a driveway.
The Muskegon, Michigan, resident was seen braving the extremely cold temperatures by a neighbor, whose identity is yet to be revealed.
The photo quickly found its way online, not only because of how odd it looks but also because Downing seems to be completely in her element.
NOT AFRAID OF THE LOW TEMPERATURES
The 82-year-old was wearing a pink coat and a pair of pajama pants at the time, and, according to her, some people believe that she is crazy.
Still, despite what people may or may not think, Downing claimed that she is quite used to the freezing cold considering that she grew up in North Dakota.
Downing also said that she loves being outdoors, and, as someone who loves to be outside in all seasons, she thinks there is "no point in being inside."
To the fierce grandmother, the cold is not a nuisance and she thinks it's funny that people online are making such a big fuss about her and her snowblower.
A VERY SPECIAL SNOW BLOWER
Although most people prefer to stay inside, Downing claimed that she doesn't judge others for their choices and that they are free to "do their own thing."
Plus, the famous snowblower, which Downing is seen handling in the picture, reminds her of her Harley Davidson motorcycle because of the loud motor.
The outdoors lover usually rides her motorcycle when the weather is warm, so the sound of the snowblower makes her feel right at home.
Still, even though Downing doesn't mind the cold weather, the truth is that the low temperatures can bring quite a lot of suffering to the elders.
HELPING AN ELDERLY MAN IN NEED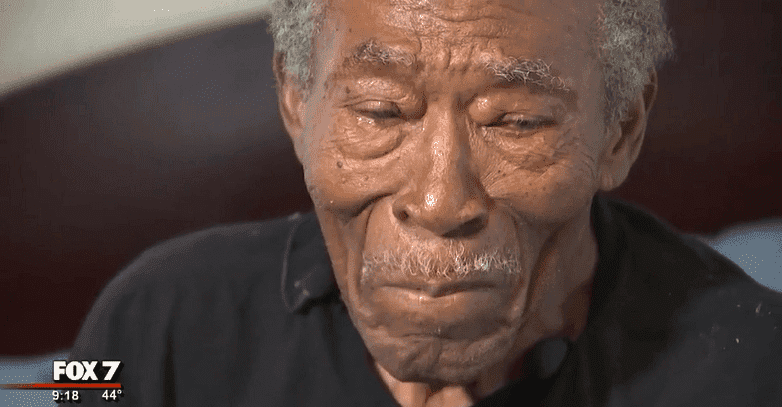 Louis Hicks' reaction upon receiving the heating unit | Photo: Fox 7 Austin
Recently, a 92-year-old veteran named Louis Hicks was gifted a portable electric heating and air-conditioning unit by the Austin Police Department after an officer discovered he was using his oven to stay warm.
Hicks, who fought in World War II, was very touched by the gesture and confessed, with tears in his eyes, that no one had ever done anything to help him before.
Please fill in your e-mail so we can share with you our top stories!