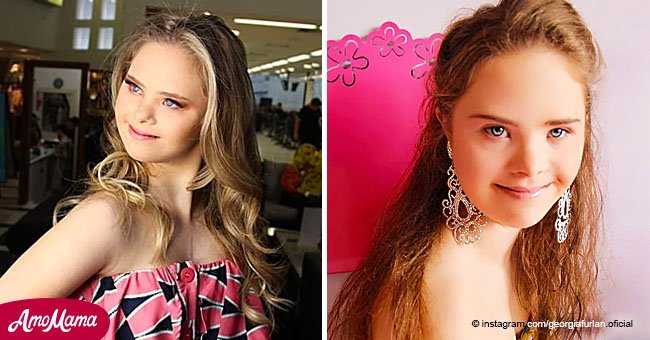 Girl with Down syndrome has become an inspiration for thousands after becoming a model

Georgia Traebet broke into the glamorous world of modeling despite her Down's Syndrome, becoming an inspiration for thousands.
The 14-year-old Brazilian model has gained almost 70,000 followers on Instagram after being featured by several media outfits.
"It all started as a joke; I posted a picture of her on Facebook and it was a hit straight away."
Fans around the world have expressed how proud they are of Georgia, who have been signed into five different modeling agencies.
"I'm in the crowd [cheering] for you. I wish every success in the world for you!" one fan commented on a post she shared on Instagram.
"Congratulations beautiful!! You deserve all this and more !! A true princess model," wrote another.
STARTED "AS A JOKE"
Georgia, who was diagnosed with Down's Syndrome shortly after birth, has taken the Brazilian fashion industry by storm after her mother posted a photo of her "as a joke".
Her mother, Rubia, shared a picture on Facebook of her then 12-year-old daughter in 2016.
"It all started as a joke; I posted a picture of her on Facebook and it was a hit straight away. The idea was to see how much it can inspire other DS [Down's Syndrome] children," The Sun quoted Rubia as saying.
"Today she is listed in five modeling agencies but what really worked was Instagram and Facebook. That's where she became known worldwide," she added.
Georgia's following on social media is expected to grow in the coming weeks as she appears in more TV adverts.
"Now jobs have started to appear; she has just made a commercial for a famous brand here in Brazil and also modeled for one of the biggest jewelry designers in Brazil," her mother said.
BREAKING STEREOTYPES
Another young woman who broke stereotypes in the modeling industry is Marian Avila, a 21-year-old Spanish model who has Down's Syndrome.
The 21-year-old Spanish model even became the star of the New York Fashion Week in 2018.
She became the first Spanish model with Down Syndrome to walk the runway at New York Fashion Week, which was her dream.
She achieved her dream with the help of a young woman from Florida who read an article about her. This woman turns out to be the daughter of a fashion coordinator of the New York Fashion Week.
Please fill in your e-mail so we can share with you our top stories!