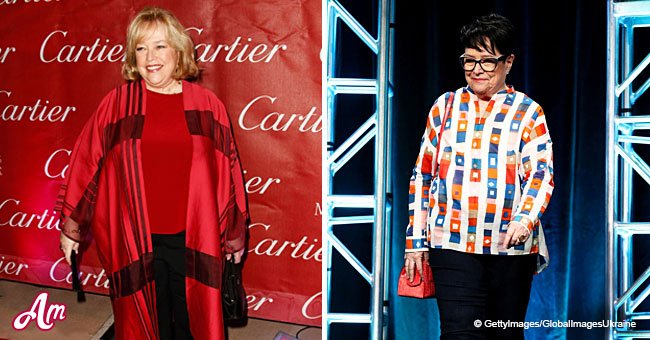 Kathy Bates opens up about how losing weight helped with cancer, warns about medical neglect

After overcoming cancer and losing 60 pounds, the Academy Award winner is feeling renewed, and she has a new cause in raising awareness about a little-known condition that doctors tend to oversight.
70-year-old Kathy Bates had a lot of work to do on her health after going through her second cancer treatment, as she was affected by lymphedema, a little-known condition that causes the swelling of arms or legs.
The "American Horror Story" star credits losing serious weight with helping her cope with lymphedema symptoms in a big way, and after learning more about the condition she felt urged to warn others about it.
Since 2014, Bates has been a spokesperson for the Lymphatic Education & Research Network (LE&RN) concern as she is to know that even doctors often ignore how much people are affected by this condition, giving it little importance.
"Some doctors think it's cosmetic and not life-threatening. Doctors spend 15 to 30 minutes on the entire lymphatic system in medical school, so if someone goes to their general practitioner with swollen limbs, pain and heaviness the doctor will have no idea what it is."
-Kathy Bates, People, January 31, 2019.
Before becoming one of its advocates, Bates received the support of LE&RN when she needed to find the right doctor for the condition, and she understood the value of the work the organization is doing for the public discussion of lymphedema.
"I've been asked to lend my name to a cause [before] and I've made it my policy not to do that, but this is the first one I've felt strongly about," Bates said.
Before committing herself to help the 10 million Americans suffering from this consequence of the blockage of the lymphatic system, the "Misery" actress had to find a way to lose her excessive weight.
"I'm feeling great. I've lost a lot of weight and it's really helped with my symptoms. I just still have to wear compression sleeves or guard against nicks and bug bites because that can lead to sepsis," she shared.
Bates has revealed that the practice of mindfulness, with its focus on self-awareness, was key for her to modify her eating habits for the better, and she has a relative to thank for teaching her that tool.
"My niece told me this little secret; I guess it's no secret, it's a biological thing, that at some point when you're eating, you have this involuntary sigh and that's really your brain and your stomach communicating that you've had enough," she said.
On January 15, a much-changed Bates made an appearance at the WebMD headquarters in New York City to formally accept the honor of becoming one of the company's 2018 "Health Heroes."
She was recognized as a "Game Changer," because of her "all-out effort to change the way doctors and hospitals approach lymphedema."
Please fill in your e-mail so we can share with you our top stories!