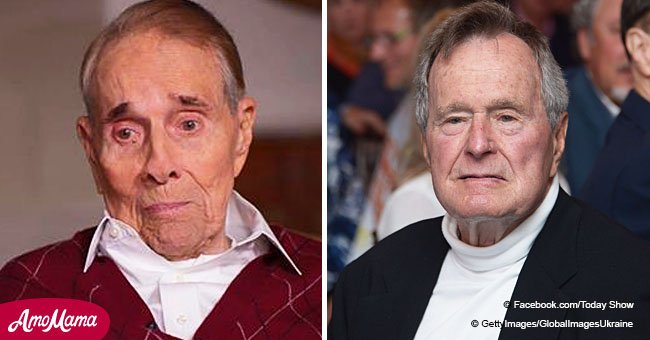 Bob Dole opens up about his powerful final goodbye to former president George H.W. Bush

Among the many honors and demonstrations of respect given to the late former US president after his passing, retired Kansas senator Bob Dole's final tribute to his former political rival remains one of the most touching.
95-year-old Bob Dole's gesture in front of the late politician's casket during the latter's lying in state at the Capitol Rotunda in Washington will always be remembered by those who appreciate Bush and his legacy.
Now, as Dole looks back on the iconic moment, he has admitted that he had not planned to give Bush the military salute as he got up from his wheelchair to say his final goodbye to his rival-turned-friend, as he told "Today's" Savannah Guthrie.
"I wanted to pay my respects, so I wanted to stand up and maybe bow my head. But I got on my feet — it's almost like my subconscious was moving my left arm. I didn't go there with the intent to salute, but I did."
-Bob Dole, "Today," January 31, 2019.
After decades of rivalship starting all the way back to the Nixon years, Dole, who once served as the Republican leader of the Congress, and the 41st President of the US eventually grew to be great friends.
"You know, George Bush and I were close friends. We also had some rather tough races against one another. But he was my friend and he did a great job as president. And so did his son," Dole said.
The late president's son and 43rd Governor of Florida, Jeb Bush, took to Twitter to show his appreciation for Dole's tribute to his father. "Just incredible. Thank you, Senator Dole," Jeb Bush wrote, adding a clip of the historical moment.
George H.W. Bush passed away on November 30, 2018, when he was 94 years old. Just like Dole, Bush served in World War II.
The two fought hard to earn the Republican nomination in the presidential race, but with was Bush defeating him in 1988 when he was elected President of the US.
In 1996 Dole was the Republican nominee for the presidency, but he lost the election to Bill Clinton.
Please fill in your e-mail so we can share with you our top stories!