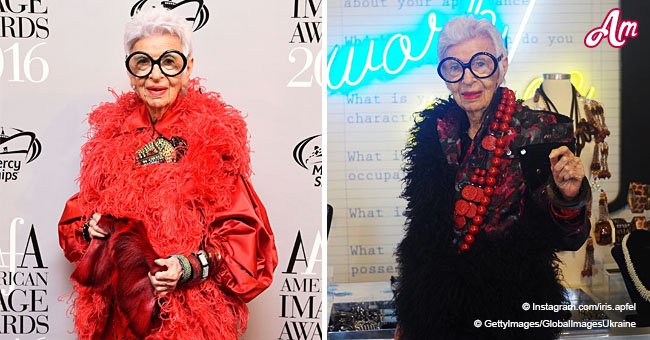 97-year-old Iris Apfel signs a contract with a prestigious model agency
Iris Apfel is 97 years old, but she isn't letting her age define her in any way. She has had a long career as an interior designer and businesswoman, but recently she became a model too.
The talent management agency IMG signed Iris onto their books as a model and influencer. This is the first time she has had an agent because she used to organize her deals.
Fashion designer Tommy Hilfiger was instrumental in making this deal happen. He thought that Iris should have someone handling business for her, so he set her up with the agency.
AGE IS JUST A NUMBER
The president of IMG, Ivan Bart, recognizes Iris an icon and influencer to the current generation. He sees her as symbolizing that age should never hold anyone back:
"She radiates creativity and inspiration, and we're so excited to explore new and unique opportunities with her, where her natural gifts can be shared with the world. At 97 years old, Iris continues to prove that age is just a number and shouldn't be something that defines you."
Iris has always been involved in textiles since she and her husband started a company in 1950 called Old World Weavers. She participated in nine White House restoration projects throughout her career.
Regarding modeling, Iris does not wish to appear on the runway, but would rather be part of print and digital projects. Her icon appeal is never ending and includes books, advertisement campaigns, gallery exhibitions, and documentaries.
TONI'S TEEN
While many people don't consider 97-year-olds to be models, they hardly ever expect 15-year-olds either. However, singer Toni Braxton's son, Diezel, is breaking the mold.
Diezel is 15 years old and has been signed to the Wilhelmina Models Agency, which also represents celebrities such as Nicki Minaj and Shawn Mendes. Toni congratulated her son's achievement by posting a picture on Instagram.
In the photograph, Toni is joined by her son and his agent. The caption contains a message showing her pride at Diezel's achievement.
Please fill in your e-mail so we can share with you our top stories!