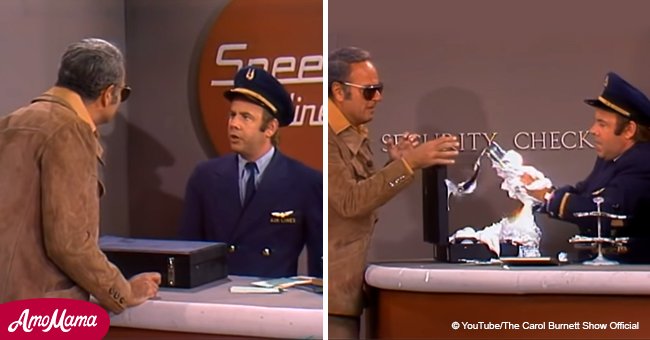 'Carol Burnett Show' airline security sketch was filmed in 1976, but still funny

Almost fifty years later, and the Carol Burnett Show is still one series that gets people cracking up.
The comedy show made its debut in 1967 and aired for 11 seasons on CBS before finally coming to an end in 1978. It was a show loved by many; hilarious and very entertaining.
Some of the famous faces who were consistent on the show were Tim Conway and Harvey Korman. Korman played the role of a filmmaker, carrying a briefcase of film reels, in the famous Airline Security skit, while Conway acts as the security who checks-in officials for the made-up Speedo Airlines.
Airline Security ranks as one of the all-time best skits of the comedy show; probably because average viewers could relate to the stringent methods of check-ins which goes as far as removing clothing items like belts or shoes, metal objects, gadgets, etc.
One of the things that make the 1976 skit funny is its ironical effect; there was nothing "speedo" about Korman's annoyingly slow check-in experience. There was a scene where Harvey's character had just a few minutes before his flight departed.
Then, Conway's had to check him in; when it was time to open the luggage, Conway breaks the key inside the lock, and later had to use a drill and hacksaw; that scene was priceless! Well, the saw ended up puncturing a shaving cream in the bag, which spilled all over Korman's beloved film reels.
At the end of all the chaos, Conway uses a tape to wrap the briefcase up and says: "that'll hold her."
Parade Magazine celebrated the birthday of the brain behind all the funny skits on the Carol Burnett Show; the queen of comedy as she is fondly known; Carol Burnett.
The magazine decided to reel out some of the best comedy skits the show produced. One was the hilarious elephant story with Tim Conway. "Mrs. Wiggins" was also on the list alongside "Airline Security."
Burnett is a living legend and was one of the foremost pioneers of comedy in Hollywood; the 84-year-old has brought so much laughter to the world.
Please fill in your e-mail so we can share with you our top stories!