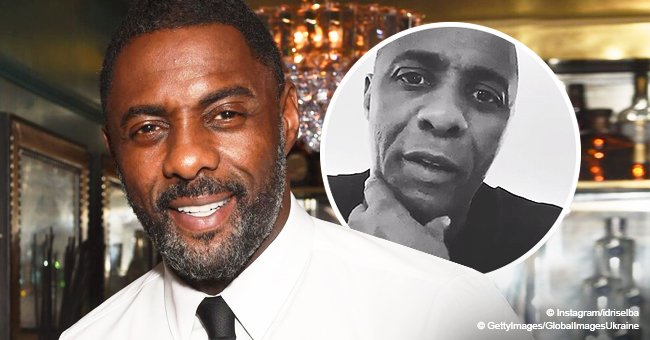 Idris Elba sparks mixed emotions after debuting new hairless look on Instagram

Idris Elba debuted his hairless face on Instagram and opened himself up to a wave of mixed reactions. Most of his fans wanted his mustache back.
A clean-shaven Idris Elba greeted his fans on Instagram two days ago, a far cry from the bearded man fans have been accustomed to. Thus, it was a shock to many and quite a disappointment.
THE STRUGGLE IS REAL
Elba shared a black and white video revealing his freshly shaven face. Addressing his 3.3.million followers, he spoke of his struggle parting with his trademark mustache.
"It's a kind of a shape thing. Whenever I have to shave off my facial hair it's like what the front door man' - but then every now and again, as I get older, I just have to appreciate it."
Though he wasn't happy about his clean face, Elba acknowledged that it was a gift from his parents that he should be proud of.
"And this is my Mum and Dad's face. And not only did they give me this face but they gave me the facial hair, and they gave me the brains behind the facial hair."
The 46-year-old also revealed that though he wasn't thrilled about it, he shaved for a role in a movie.
"Real talk. I'm making a movie at the moment where they insisted, based on the special effects, that you have to shave it. Struggling!"
His rumored "wife" is apparently struggling with it too. This was a tidbit the "Luther" actor dished while seemingly confirming that he is, in fact, now married to his known fiancé Sabrina Dhowre.
"I always struggled with this bit between my nose and my top lip, it's like massive, you get me. But anyways, some people like it and a lot don't - like my wife."
FANS ARE CONFLICTED
Most fans seemed to agree with Dhowre but maintained they would take Elba any day with or without a mustache. Here were some of their conflicting comments.
"NO offense to your mom & dad, but I do LOVE the facial hair! But you're still the sexiest man alive without it!"
"I'm not gonna lie @idriselba - I'm slightly [heartbroken emoji] regarding the naked face. But... alas. It'll grow back"
"Makes u look younger but prefer the stubble/facial hair"
"Why?. I miss your beard!!it needs to come back!!"
"Definitely more fine with the hair"
"Dude. Never shave again"
"Handsome and a strong presence either way!"
"Nope I prefer the hairy version - still yum tho"
Twitter was also abuzz with comments about Elba's beard or lack of it.
THE MOVIE IS EPIC
The all-important movie that required Elba to shave is reportedly the film version of the Broadway musical, "Cats." He'll be playing the villainous Macavity opposite Taylor Swift's Bombalurina. They'll be joined by an all-star ensemble consisting of Jennifer Hudson, Dame Judi Dench, Sir Ian McKellan, James Corden, Rebel Wilson, and Jason Derulo. With such an epic cast and film, it's not surprising Elba would agree to sacrifice some facial hair.
HE'S PRETTY BUSY
Elba is currently also filming the spinoff of "The Fast and the Furious" called "Hobbs & Show" which likewise stars Dwayne Johnson and Jason Statham. He'll also be featured in Netflix's "Turn Up Charlie," a comedy series he created and executive produced.
HE'S NOT IT
Meanwhile, what is not in Elba's horizon is the rumored James Bond movie everyone is hoping he would star in. Back in August, speculations were high that he would be the first colored James Bond after it was alleged that director Antoine Fuqua sounded off the idea to Bond film producer Barbara Broccoli. Despite fans clamoring for the rumor to be true, they were soon disappointed when Fuqua's representative denied ever bringing up the subject to Broccoli.
Please fill in your e-mail so we can share with you our top stories!