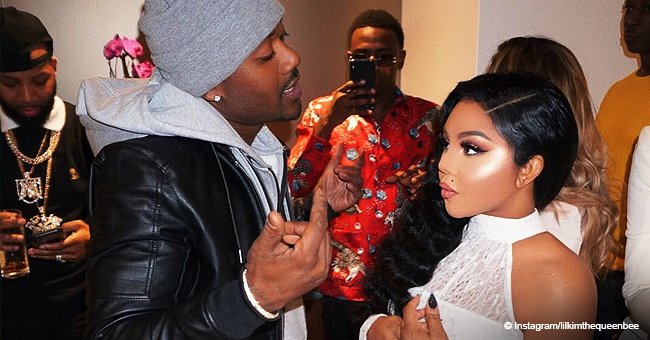 Lil Kim looks alluring in sheer white body suit in new photo with Ray J
Lil Kim is showing off her curvaceous figure in recent pics shared to Instagram. The rapper wore a sheer white bodysuit while partying with close friends and associates, as she hinted a new clothing line collaboration with a famous brand.
Lil Kim might be dealing with a $4 million debt after filing for bankruptcy last year, but that doesn't stop her from making sure her appearance is always on point while she gets ready to promote new deals that will help her pay off her debts.
The rapper recently attended a party hosted by Fashion Nova alongside some of her closest friends, colleagues and business partners, and she looked dashing in a sheer lace white bodysuit with frill details on the legs, which enhanced her curvaceous body.
A FRIENDLY REUNION
Lil Kim took to her Instagram to share several shots from the celebration, posing with people from her "squad," but one picture that caught fans' attention depicted the "Wait A Minute" star with long-time friend and collaborator Ray J.
In the pic, the pair stands face to face while the singer gestures in the middle of their conversation. Lil Kim, on the other hand, looks deep in thought as someone in the background seems busy recording the exchange.
"Classic epic night @rayj #family," Kim captioned the photo.
FANS' REACTIONS
Fans took over the comment section to gush about their favorite stars being pictured together, with some of them praising Lil Kim's looks, and others asking for a new collaboration between the two, like one user who wrote, "Queen b, Ray J knock out collabo and if you don't know now ya know."
On another pic, Lil Kim hinted at a possible collaboration with Fashion Nova, stating in the caption:
"Thank you @fashionnova for everything. I look forward to our future endeavors."
Fans are excited about a possible clothing line coming from the Queen Bee, not only because her fashion style has been pretty distinctive and daring over the years, but also because the money would be of help in her case of bankruptcy.
BANKRUPTCY SCANDAL
The 43-year-old filed for Chapter 13 bankruptcy protection last June, and listed assets totaling $2,573,300 with liabilities for $4,084,841.60. She owes $1,845,451 in back taxes alone.
Despite efforts from her creditors, the rapper managed to save her New Jersey home from foreclosure in August. She was ordered to pay $32,297.41, which covered three $10,155 payments that were due, plus interest and legal fees, according to court documents obtained by The Blast.
And in her most recent report of incomes and expenses, the "Nasty one" rapper listed some of her earnings, including $4,600 in music royalties from SoundExchange and a $25,000 loan from Missy Elliott.
She recently spent around $600 in Kylie Jenner's cosmetics, $3,000 on Lyft rides, $3850 in travel expenses including hotels, Airbnb, and rental cars, and $1,300 at a furniture store.
Lil Kim keeps working hard to pay off her debts, making appearances at special events, collaborating with brands on social media and even walking down the runaway on last year's New York Fashion Week.
Please fill in your e-mail so we can share with you our top stories!