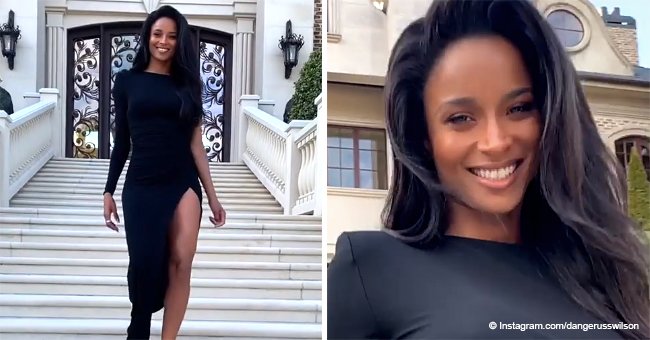 Russell Wilson 'can't believe his eyes' at the sight of wife Ciara in a black dress with slit (video)

Russell Wilson, the NFL player who is married to R&B singer Ciara, took to Instagram to share a video of his wife in a beautiful black dress.
In the clip, the singer appeared walking down the stairs of a residence wearing a form-fitted black gown that had a long sleeve on one side and no sleeve at all on the other one.
Apart from that, it had a high leg-slit that gave her look the final chic touch. Her hair was let loose over one of her shoulders, and her simple-yet-pretty makeup was on point.
PEOPLE'S REACTION
While recording the short clip, Russell said that his lady was "coming down the way" and that it would be a date night. For the caption, he pointed out that he couldn't believe his eyes and that he loved "Mrs. Wilson."
As soon as he uploaded that video, his followers took to the comment section to share their thoughts.
"Gosh the way he loves his wife..power couple..goals..you guys are beautiful," [sic] admitted one commenter.
"She's a beauty wish more men would treat their women with so much love respect," said a second user.
"God is sooo good. You deserve to be happy and I love you both. U inspires me a lot," [sic] pointed out another person.
FUTURE AND THE COUPLE'S FEUD
Recently, Russell, Ciara, and Future, Ciara's ex, made headlines over an alleged feud that the rapper started. During Future's radio show titled "FREEBANDZ RADIO," he spoke about his thoughts on Russell.
"[Russell] not being a man in that position. He's not telling her, 'Chill out with that on the internet. Don't even talk to him. I'm your husband. You better not even bring Future's name up.' If that was me, she couldn't even bring his name up. She know that. She couldn't even bring her ex's name up. I don't care what they gave you. You don't bring their name up in interviews. Don't even do nothing around them, don't say nothing" [sic].
Apart from that, Future set clear that he didn't appreciate Ciara's current husband being around his son, Future Zahir Wilburn, before both men met each other.
"You'd already started going around my kid when Y'all started going together, and you haven't even talked to me," he said. "And Y'all got married, and she said 'Oh I want you to meet Russell.' Why would I want to meet him now?! Y'all already did the damage!"
MAKING HIMSELF CLEAR
After saying that, he got a lot of hate from people on the Internet, so he decided to make things clear yet again through the radio show. He pointed out that he was in good terms with Russell.
If they've ever disagreed on something, it was only regarding Ciara's use of social media around their son and the way the parents are handling the custody of Future Jr., especially since they live in different states.
In the end, everything is well between the three of them, and Future proved that he definitely does not have any bad blood against Russell, saying that he wouldn't mind him teaching Future Jr. how to play football.
Please fill in your e-mail so we can share with you our top stories!