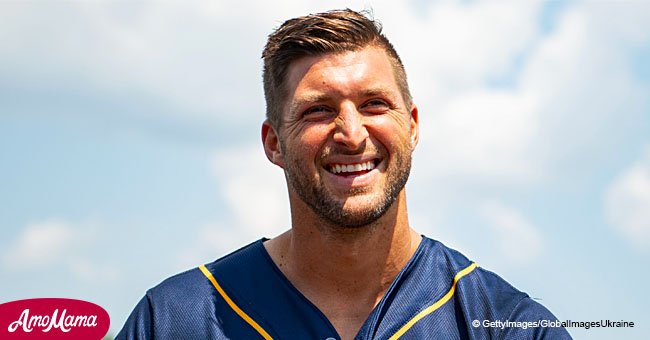 Professional US football star has perfect response to producer yelling 'Jesus' after his swing

Tim Tebow, the famous former American Football quarterback, gave a witty response when 'The Pat McAfee Show' producer commented on one of Tim's golf swings during a charity shootout.
Recently engaged to the former Miss Universe, Demi-Leigh Nel-Peters, Tim is known to be religious, which made Tim's remark even funnier.
The retired NFL star participated in the Wrangler Celebrity Charity Shootout in Atlanta. The event supported the Tim Tebow Foundation's annual 'Night to Shine,' which gives thousands of special needs people a VIP-prom experience.
The host of 'The Pat McAfee Show' acted as MC, as each celebrity got ten balls to hit to win $10,000 for the charity of their choice.
Able to swing a golf ball a country mile, Tim gave it his all, but on one of Tim's swings, the producer of 'The Pat McAfee Show' could not contain his amazement and yelled, "Jesus!" right after one of Tim's swings.
But Tim's response got "perfectly timed" as he added without hesitation, "Loves you." The video soon went viral, and even though Tim did not win the $10,000 during the shootout, he impressed everyone at the tournament.
With the Super Bowl weekend just passed, Tim and his fiance, Demi-Leigh kept busy. On Saturday, Tim paid a visit to the College Football Hall of Fame for the premiere of the film, 'Run the Race.'
Meanwhile, Tim also appeared on NBC's 'TODAY' show and gushed over his former team, the 'New England Patriots' ahead of the Super Bowl.
A news release also stated that Tim joined a volunteer effort along with over 20 members of 'Home Depot' associate-led volunteer workforce. Together they refreshed the home of Alvis Haadee, a longtime Westside resident and US Army veteran.
On Sunday, Tim got scheduled to appear at Passion City Church ahead of the Super Bowl kick-off. Before heading to the stadium for the game, Demi-Leigh and Tim stopped by 'Shaq's Fun House' for a quick visit.
On location in Battery Park for the weekend, the couple got pictured alongside boxing legends such as Shaquille O'Neal, Migos, Lil' Jon, Evander Holyfield, Jermaine Dupri, and others.
No ordinary experience to be sure, but Tim is no average man, and when he proposed to Demi-Leigh on January 10, on his family's farm outside Jacksonville, it was magical.
Tim had carefully planned his proposal to Demi-Leigh and went to great lengths to sell his cover. In the end, the former Miss Universe happily agreed. Brimming with joy, Tim soon took to Instagram and shared the happy news:
Please fill in your e-mail so we can share with you our top stories!