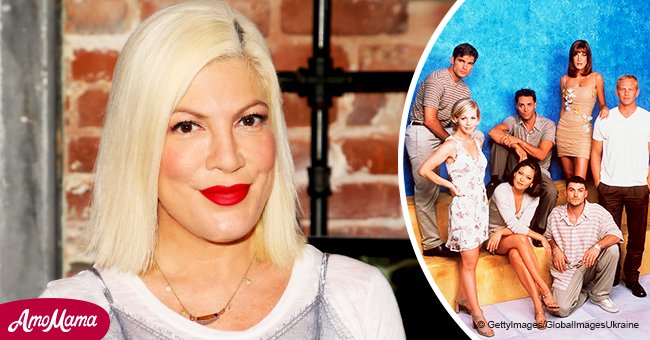 Tori Spelling accidentally let out some big news: revealed that 'Beverly Hills' is coming back
The 45-year-old actress, Tori Spelling, delivered breaking news during a live interview, unaware that it was the first official confirmation the public has had on the return of the hit nineties show
On February 1, Tori Spelling visited the set of NBC's "Access" and when she was questioned about the meeting she and some of her former co-stars from "Beverly Hills, 90210" had, she gave us the answer we all wanted to hear.
Spelling, who played "Donna" in the original show, which ran from 1990 to 2000, wondered out loud after she noticed the excitement of the hosts Natalia Morales, Kit Hoover, and Scott Evans:
"Did I just confirm something that wasn't known?"
Back in March 2018, Spelling herself gave the first hint of a possible comeback of the show that made her famous when she shared a picture of her visit to CBS studios, mentioning fellow "Beverly Hills" alum Jennie Garth in the caption.
While back then she just talked about "90210 vibes," the release of a photo of part of the show's cast leaving a meeting signaled that the rumors were true, and in the end, it was Spelling herself who revealed the great news.
"It is the OG crew back together, and we're playing heightened versions of ourselves. The fans will be pleasantly surprised, though, because we will intercut that with scenes from the show. So it'll be a whole ensemble cast playing a heightened version of themselves. Almost everybody."
Following the confirmation, the TV hosts bombed Spelling with questions, eager as they were to obtain such an exclusive. The conversation soon moved to the subject on who was and who wasn't coming back for this sequel.
About Luke Perry, who played "Dylan" back in the day, Spelling said that he will appear in as many episodes as he can since he is committed to his role on "Riverdale."
Regarding Shannen Doherty, who played "Brenda," Spelling said that her involvement in the project is to be confirmed, and she used the opportunity to send a message to her, saying, "If she's watching, we would love to have you do it."
The new season will reportedly premiere sometime in 2019, which is almost 20 years since the show came to an end after running for 10 years.
In 2008, a reboot titled "90210" was released by the CW. It lasted five seasons and included guest appearances by Spelling, Garth, and Doherty, who played older versions of their original characters.
Spelling could be counting on the return of "Beverly Hills, 90210" to be a success so she could leave her financial problems behind since it has surfaced that she just lost a suit filed by American Express recently.
The mother-of-five has been ordered to pay $88,246.55 to cover months of unpaid credit card debt. Along with her husband Dean McDermott, she has also been sued by City National Bank for roughly $200,000.
Please fill in your e-mail so we can share with you our top stories!