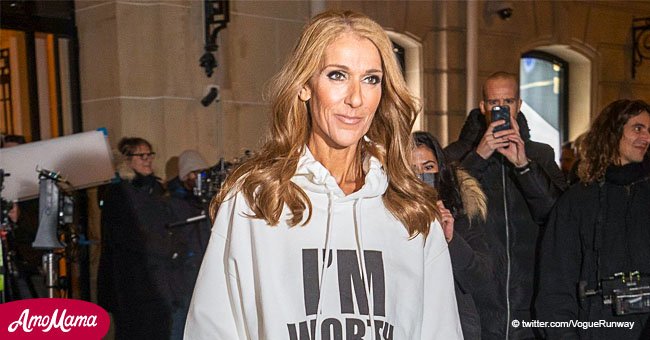 Céline Dion makes a bold statement with her oversized hoodie amid criticism
Recently widowed mother-of-three, Céline Dion has always been a fashionista as well as a songbird. Oozing charm and confidence, Dion would be comfortable on any runway in Paris, but recently she used her clothing to make a statement.
Coming under criticism in the media of late for her "skinny" frame after being spotted out with a younger man, Céline Dion, a faithful wife to the man she met when she was just 12 years old, has taken a stand.
The "I'm Your Angel" singer was spotted leaving the Plaza Athenee Hotel in Paris wearing an oversized white sweater boldly proclaiming "I'm Worth It" on the front – perhaps as a reminder to her haters.
Pairing it with a pair of blue acid-washed paper bag-waisted rolled-up jeans and silver stilettos, Céline did not shy away from the cameras and seemed to enjoy the paparazzi attention.
Her ambivalence about media speculation over her friendly relationship with New York-based illustrator Pepe Muñoz and being criticized for being too thin has duly been noted with this hoodie.
She recently told Dan Wooten in an interview:
"If I like it, I don't want to talk about it. Don't bother. Don't take a picture."
René Angélil, Canadian musical producer, talent manager, and singer, was her husband of more than twenty years. He died of throat cancer in 2016 at the age of 73.
Angélil was the father of her children, the only man she had ever kissed, and three years after his death, fans are still not ready for her to move on.
Her choice of clothes seeks to remind us that she has always been her authentic self. As a wife, a mother, a songbird, a diva – Céline lives by her own rules and her integrity has never once been in question.
Please fill in your e-mail so we can share with you our top stories!