Chicago storm warning: weather conditions deteriorate as ice and freezing rain approaches
Chicago is under an Ice Storm Warning for later this evening until the early hours of Wednesday morning. 
From 6 p.m. this evening, Chicagoans can be expected to see freezing rain up until 6 a.m. on Wednesday according to AccuWeather.
Residents should look out for downed power lines, falling trees and other damages to wildlife. They will likely experience power outages.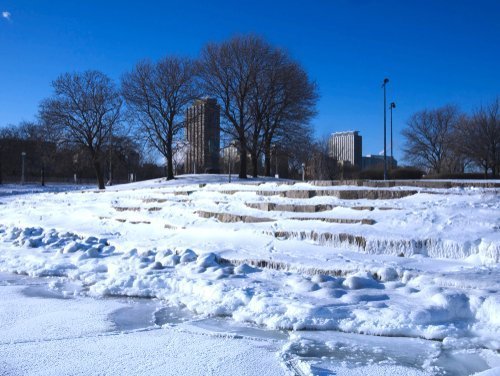 Traveling is not recommended as many surfaces are untreated and considered to be hazardous for commuting. Keep a flashlight, and extra food and water handy if traveling becomes necessary.
In addition to the central and eastern areas of Illinois, the counties Lake, Cook, DuPage, Kendall, Kane, La Salle, Grundy, DeKalb, McHenry, and Will are all under the warning.
They will see amounts of ice measuring from one-tenth up to four-tenths of an inch. The freezing rain will also contain snow and sleet. The area running from Streator to Morris, Joliet, and downtown Chicago will get the majority of the ice.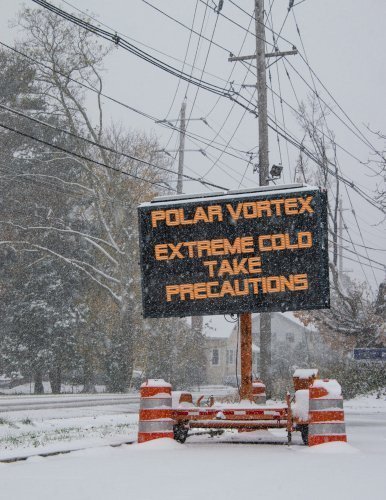 An official Winter Weather Advisory also applies to Kankakee and Livingston counties. This will last from 6 p.m. until midnight. The suburbs will be hit in the first hour, followed by the city from 7 to 8 p.m.
Last week, temperatures measured -77 F in the Upper Midwest. Persons were recommended to refrain from speaking in the cold air as the risk of hypothermia and frostbite soared.
The polar vortex, a low pressure area of cold air, moved from the Arctic Circle into these areas. Now, record-breaking numbers are being recorded as schools shut down. Sadly, four deaths were attributed to the extreme temperatures.
A record arctic air mass will remain over the central and eastern U.S. over the next several days. Wind chill values of 30 to 60 degrees below zero will be common across the northern Plains, Great Lakes, and upper Midwest.

— National Weather Service (@NWS) January 30, 2019
Wednesday morning saw the 1996 record of 15 below zero being broken as Chicago temperatures reached 22 below zero. The last time this happened was in the mid-1980s.
The weather conditions compelled the US Postal Service (USPS) to make an announcement. They would not deliver mail to areas in Michigan, Iowa, Minnesota, North and South Dakota, Ohio, Indiana, Pennsylvania, Wisconsin, and Illinois. 
The suspension of delivery services was necessary to "ensure the safety and well-being" of USPS workers according to a statement from the organization. A few retail offices remained open, however. 
As temperatures continue to drop, we're adding extra beds to shelters to ensure everyone in need has a safe, warm place to stay. No one in need of a shelter bed will be turned away. Those seeking access to #warmingcenters, a bed or experiencing inadequate heat should call 3-1-1. pic.twitter.com/dGH1oBTpCW

— Archive: Mayor Rahm Emanuel (@MayorRahm) January 29, 2019
Additionally, Mayor Rahm Emanuel encouraged those who needed it to go to shelters and get beds as required to stay warm.
We pray that everyone in the affected areas stays safe and indoors tonight into tomorrow as the dangerous storm passes through. Kindly implement all precautions so no one else is harmed.