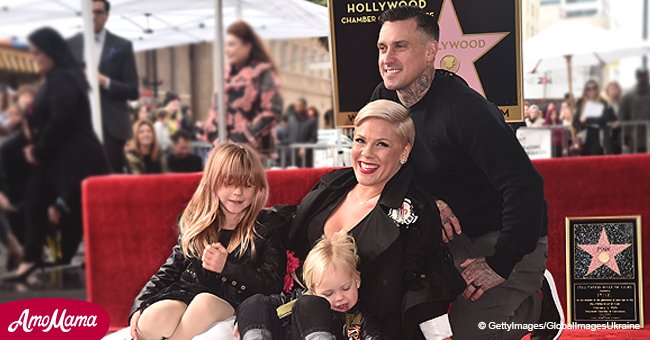 Pink brings her family to Hollywood Walk Of Fame to receive her star

Pink receives her star on the Hollywood Walk Of Fame surrounded by her cute children and her loving husband, Carey Hart.
Any performer who has been attributed a star on the Hollywood Walk of Fame knows they have made it to the heights of fame and success in their chosen field.
On February 4, 2019, the Hollywood Chamber of Commerce honored 39-year-old singer/songwriter Pink with their ultimate accolade: her own star, and there to witness her triumph was her proud family.
PINK WAS RADIANT AS SHE RECEIVED HER STAR
The star on the Holywood Walk Of Fame is yet another achievement for the singer who has already received three Grammy Awards, a Brit Award, a Daytime Emmy Award and seven MTV Video Music Awards.
The woman who has sold over 90 million records worldwide, was accompanied by her mother, Judith Moore, husband Carey Hart, and their two children, Willow, 7, and Jameson, 2.
" I feel a lot of people probably only ever thought I'd make it to the walk of shame, but here I am. Two little letters make such a big difference."
PINK: MOM FIRST, STAR SECOND
Proving that she has her priorities straight, Pink's main focus - even at the prestigious ceremony - was her children. Pink was caught on camera - and roasted by Ellen DeGeneres - for wiping son Jameson's runny nose on the red carpet.
JAMESON STEALS THE SHOW FROM POP STAR MOM
When Pink was called to the podium to give her acceptance speech, she attempted to hand her two-year-old to proud husband Carey, but Jameson wouldn't let go. After a little tussle, the "Perfect" singer made a moving speech:
"There's a power in not giving up on life and on not giving up on yourself. And there's a power in making a decision that while you may not be the best that ever did it, (...) if you're stubborn, and you don't give up and you work really hard, no one else can ever be you."
Proving that she has her priorities straight, Pink's main focus - even at the prestigious ceremony - was her children.
PINK CREDITED HER FAMILY WITH MAKING HER A STAR
Pink thanked her friends and her fans for helping her become the artist she is today, and that husband Carey is her muse, and her children her reason for living:
"And my children, Willow Sage and Jameson Moon, you guys are my stars and I would never shine without you. Ever, ever, ever."
We add our congratulations and wish Pink all the best, and for a professional future as brilliant as her past has been
CAREY HEART TEACHES DAUGHTER WILLOW HOW TO SHOOT
Rebellious singer Pink and her motocross star husband Carey Hart are known for their unconventional parenting, and often send what they call the "parent police" into a frenzy.
This time, Carey posted a photo of their daughter Willow on Instagram. The photo depicts Willow learning to shoot, and is captioned:
"She is getting pretty good. Can hit a 12 inch pie plate from 30 yards. Started her shooting at 3yrs old."
The post set off an avalanche of comments, that ranged from approval to outrage and accusations of irresponsible parenting.
Carey and Pink have learned to take the criticism in their stride, and continue sharing their parenting adventure with their adorable tots.
In a related story, singer Pink shared a video of her sweet baby son Jameson Moon saying "Good morning" on Instagram, and fans were delighted.
Please fill in your e-mail so we can share with you our top stories!