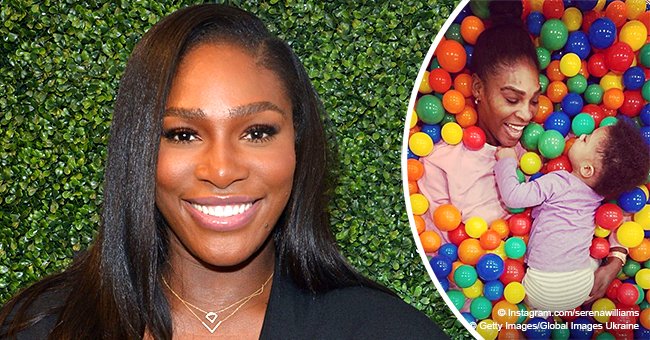 Serena Williams shares picture with her daughter as they laugh and play together in a ball pit

Serena Williams, one of the best female tennis players in history, took to Instagram to share a photo of her daughter playing with her in a ball pit.
In the image, Serena's body appeared mostly covered by the colorful plastic balls looking and smiling at her one-year-old child, Olympia, who seemed to be crawling up to her mother.
For the caption, the tennis player pointed out that nothing gave her more joy than her "sweetie" daughter. She also set clear that her husband, Reddit co-founder Alexis Ohanian, took the photo.
As soon as Serena uploaded that pic, her followers took to the comment section to share their thoughts.
"Enjoy your little angel. Those precious moments," shared a user.
"I thought I just loved all your shots on the court, but u as a Mom is by far in a whole other realm. I can see all the joy, love & peace in ur face & it is BEAUTIFUL!!!" [sic] pointed out a second follower.
"Sweet mother with sweet daughter," said another person.
TIME TO THINK
It is not the first time that Olympia melted a lot of hearts. In a recent picture posted to her verified Instagram account, Olympia sat in the garden, surrounded by greenery as she stared into space reflectively.
The caption of the post set clear that she "sometimes needs time to think." Apart from her beautiful photos, a fact that has attracted a lot of attention is Olympia's doll-daughter, Qai-Qai.
QAI-QAI: THE BLACK DOLL
Some posts in the girl's Instagram account show her with the doll, which has black "skin." During a press conference at the Australian Open, Serena revealed why she got Olympia a black doll.
"Growing up, I didn't have that many opportunities to have black dolls. And I was just thinking, like, 'I want her first doll to be black.' And her heritage, obviously she's mixed, she's Caucasian and black, but I feel like that was her first doll, and I said her second doll would be Caucasian. I definitely want to always teach her love and teach her [that] humans should always have love for each other, no matter what color they are."
SERENA'S DATING ADVICE
The tennis player has been empowering women to be the best version of themselves for a long time already, and her new commercial with the dating app Bumble, which aired during the first quarter of the Super Bowl LIII on February 3, was no different.
During the one-minute ad, Serena appeared sharing an inspirational message to women: "'The world tells you to wait; that waiting is polite, and good things will just come. But if I waited to be invited in, I never would have stood out."
She continued, "so, make the first move. Don't wait to be told your place; take it. Don't wait for people to find you; find them. In work, in love, in life. And most of all, don't wait to be given power because here's what they won't tell you: you already have it."
Please fill in your e-mail so we can share with you our top stories!