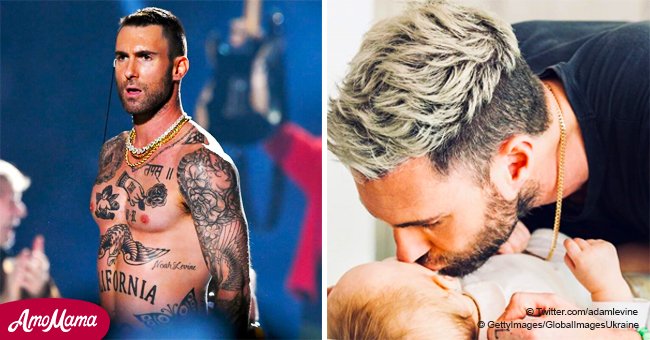 Adam Levine shows off his adorable baby daughter in a lovable commercial

In a brilliant new Pampers commercial, Adam Levine, as one of the famous dads, shares cute cuddles with his daughter Gio.
Little Gio, who turns 1-year old on February 15 is the second daughter to Adam Levine and Behati Prinsloo, as sister Dusty Rose turns 3-years old on September 21.
What made the commercial extra special was the fact that Adam rarely shares content on time spent with his daughters, so to see Adam and Gio interacting during the commercial was a treat.
For the Pampers commercial, Adam joined fellow dad and co-coach on The Voice, John Legend, where they sang about babies and their "stinky booty's."
John Legend starts the commercial off by changing his son's diaper, but when the dirty nappy smell reaches his nose, John breaks out into a song about his son's "stinky booty."
A choir of dads with their baby's tagged onto John's ballad which fazed into Adam Levine singing to his daughter while changing her diaper.
Since the commercial aired on February 3, it became a hit among viewers, and once you've seen it, you will know why:
On Monday, Behati shared a sweet picture of Gio and her sister Dusty Rose, in front of the television as they watched their dad perform at the 2019 Super Bowl LIII Pepsi Halftime Show on Sunday night:
Later on Monday, Behati posted more images taken during Super Bowl weekend, including one taken backstage during the Halftime Show and took the moment to express how much she loves him:
To kick off the show, Maroon 5 started the lineup with "Harder to Breathe," with their hit "Sicko Mode" in tow.
During his performance, Adam had awkward moments when a gospel choir accompanied him on "Girls Like You," and SpongeBob SquarePants cartoon characters appeared on giant monitors during a light show.
For the big finale, Adam performed Maroon 5's hit "Sugar" during which he stunned fans. Going all out, Adam first took off his jacket before his tank top went flying as well.
Showing off his toned and tattooed physique, Adam finished his performance much to the delight and shock of some fans. Some fans commended Adam on his commitment, as one follower posted:
"@adamlevine Thank you for performing and not letting the pressure of the BS get to you Teaching people what commitment means Take a bow."
Many followers remarked on the famous Janet Jackson debacle. She bared a nipple during the 2004 Super Bowl performance when Justin Timberlake accidentally tore her costume. Another follower called the fanfare hypocritical and tweeted:
"So it's okay for Kaepernick to make his own choices (taking a knee), but it's not okay for @Maroon5 to make theirs. Got it. Hypocrites. Can we please just watch the game, enjoy the 1/2 time show, stuff our faces and have a few drinks while doing so? So sick of politics 24/7."
However, with the new Pampers commercial, fans may soon forget about the bare-chested Adam Levine during the Super Bowl Halftime Show.
Please fill in your e-mail so we can share with you our top stories!