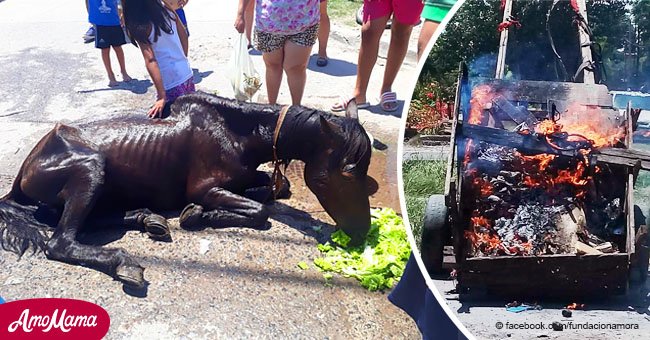 Neighbors rescued a severely malnourished working horse and burnt the cart he pulled

A group of people saved a horse that was in very bad health and helped him recover.
The Amora Foundation uploaded a post to their Facebook profile where they explained that the horse pulled a car that was driven by a man when he suddenly fell on the asphalt due to fatigue and malnutrition.
The driver began to hit the animal to get him up, the pain made him move a little more until finally, he ran out of strength and collapsed.
The incident occurred in the Gregorio de Laferrere sector of Buenos Aires, Argentina, where a neighbor who witnessed the whole scene went out to prevent the man from continuing to mistreat the poor horse and several neighbors joined the cause.
After feeling intimidated by the locals, the man decided to go and the people began to assist the horse that was lying on the hot asphalt. He was dehydrated, malnourished and had bleeding wounds, in addition to having a swollen eyelid from one of the times the man hit him.
After cooling off, Romeo felt better and was able to get up. Then he was placed under a comfortable shade and put to pasture. The neighbors burned the car of the man so that the animal doesn't return to suffer this terrible situation.
"We thank this neighborhood that was actively involved and made possible the rescue of Romeo, and we highlight the work of the staff of the Altos Police Station that guarded the horse for hours until rescuers arrived to look for him," the foundation wrote.
Finally, they reported that Romeo is already in the field enjoying life and the treatment it deserves. But Facebook users did not hesitate to express their opinions in this serious case of animal abuse.
In Texas, Sycamore Tree Ranch is a safe-haven for donkeys needing rescue from the "kill pens," and one little "volunteer" is a little girl named Honor who is without a doubt one of the donkeys' favorite humans.
When Koby Wegge and her husband, a U.S. Air Force veteran named Chad, started the Sycamore Tree Ranch, the plan was to use donkeys to offer animal-assisted trauma therapy.
It wasn't long before they noticed that their daughter was fascinated by these doe-eyed animals and they, in turn, seemed just as taken with her.
Please fill in your e-mail so we can share with you our top stories!