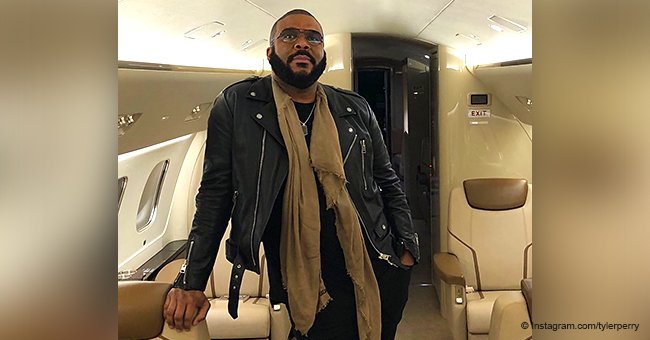 Tyler Perry makes hearts go wild, posing in leather jacket & tight jeans in his private jet
Tyler Perry is living the life, posing in a stylish leather jacket and skinny jeans while on-board his private jet.
With hundreds of million under his name, Tyler Perry can do anything he wants. Despite his fame and fortune, he remains to be loved by many because of his kind, compassionate, and generous characteristics. One can add his looks to that list, too. In fact, in a recent photo, he shared on Instagram, the producer melted hearts from across the globe because of his style and charisma.
Ready to go on a "Made as Farewell" tour, he hints visiting different Florida towns, specifically Jacksonville, Tampa, Orlando, and Miami. The photo sees him leaning on one of the empty chairs on the plane, sporting an all-black ensemble which she accented with a beige scarf.
His Instagram followers, composing of TV personalities and fans alike, showered him with nothing but praise for his looks, and for all that he has accomplished.
"Looking like a bag of money" - @NeneLeakes
"From poverty to private planes. Only God can do it!!!" - @LexiTelevision
"I know u get plenty of messages but I just wanted u to no, u are a smooth handsome operator" - @lovesunlimit
"[You're] awesome amazing beautifully beautiful man!!!!! Thank you for amazing movies n plays" - @xabian1976
While many people have been crushing over Tyler, they'll have to sit back and watch from where they are because he has been in a relationship with model Gelila Bekele for quite a while now.
Although the two barely post each other's photos on their social media accounts, they have been together since 2007. They met at a Prince Concert, and since then have hit it off quite well. They share a son together, Aman Tyler Perry.
Please fill in your e-mail so we can share with you our top stories!