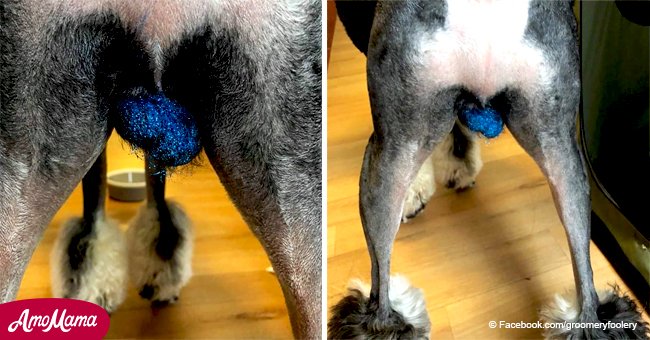 Dog owners putting glitter on their pet pooches' privates is taking the internet by storm
A shocking new trend of putting glitters on one's dog's privates has taken over the internet, leading to a widespread public outcry.
North Carolina-based Royal Paws Pet Salon noticed the strange trend and posted it on their official Facebook page, where it quickly went viral.
The salon wrote in its Facebook post, "I just thought I would let everybody know the latest creative grooming trend is glitter."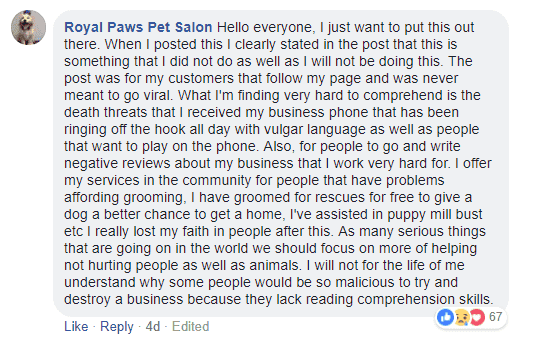 Source: Facebook/Royal Paws
They also mentioned that ever since posting about the shocking trend, they received several death threats and abuses.
However, the salon clarified, "Please know that I love doing creative but, I will NOT be doing this. Posting for your entertainment."
Another official page for dog groomers, Groomery Foolery, also mentioned on their Facebook page about the trend and suggested that it was one of the most surprising things they have ever witnessed.
"I have seen so many things in this career. Very few things surprise me. Yet here I sit," they wrote in the caption to their post.
According to them, the 'art' of coloring dog's privates was carried out using corn syrup and edible glitter. This process was termed as "glitterballed," by yet another Facebook page for groomers, Groomies.
People on the internet have reacted with surprise and disgust in equal measure to the latest grooming trend.
A Twitter user named Karyn Buller tweeted, "What about the latest, glitter dogs ball. You can see an agenda, animal welfare is [nowhere] to be seen."
Another user expressed her disgust by writing, "People are really paying money for their groomer to put glitter on their dog's [expletive]. So you tell me, are you really surprised?"
Similarly, replying to Royal Paws Pet Salon's post, Facebook user Jewels Al called the trend an "abuse" to the animals who aren't "asking" for it.

Source: Facebook/Royal Paws Pet Salon
Last year, a fashion trend involving extremely ripped jeans also raised a similar debate in the internet world because of its outrageous design.
Please fill in your e-mail so we can share with you our top stories!