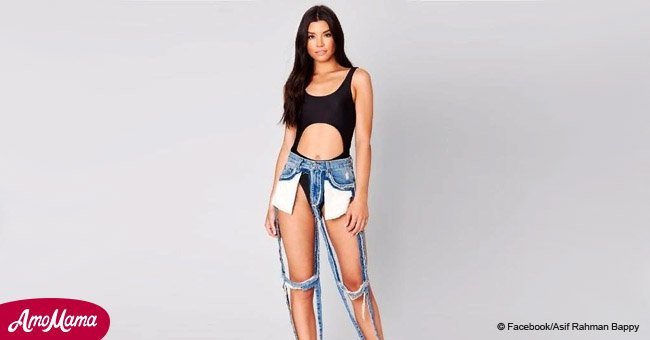 Are these new $168 ripped jeans a new craze or pure madness?
The denim brand launched one of its most shocking design of jeans, but it remains to be seen if it will initiate a trend.
The premium brand of denim, Carmar Denim have launched a bold and outrageous new design of ripped jeans that might soon catch a trend.
Priced at $168 on their official website, these new designs of ripped jeans is sure to shock and surprise many consumers.
The design of the jeans is borderline shocking as it is completely ripped and only contains a thin strip of fabric that runs from waist to the ankles.
Carmar claimed on their website that these 'Extreme Cut Out' Pants were high rise pants with 'large statement cutouts on front and back.'
They are further claimed to be of a relaxed fit with non-stretch quality made out of one-hundred-percent cotton. The pants also sport a full front zip. These features definitely make it an easy as well as comfortable wear.
The denim available in stock for pre-order is of size 27 inches at the waist and 32.5 inches at the high hip while the size of the low hip is 34.5 inches. The rise of the pant is 10.5 inches and the inseam measures at 28 inches. Similarly, the website reports that the leg opening is 12.75 inches.
The design was completely made and finished in Los Angeles. It has been made available for pre-order and will be ready for shipping once in stock.
Although most of the parts of the pant has been left out, it still sports two waist pockets that have been left hanging at the waist.
One look at these surprising designs might suggest that no one would be willing to try out the controversial fashion, but the fact that the website states it is currently out-of-stock also hints at its popularity.
With the extremely high price set on these outfits, people may also be willing to try out the unique outlook that these pants have to offer.
Please fill in your e-mail so we can share with you our top stories!