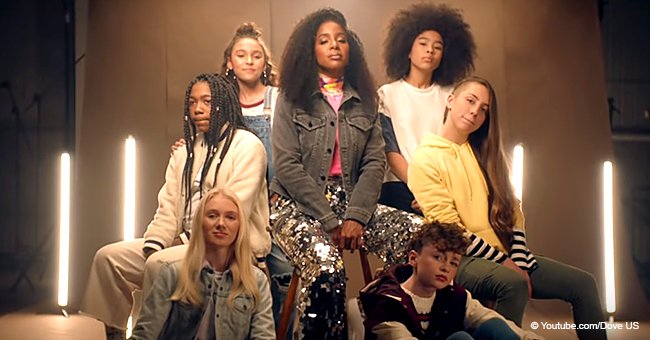 Black girls kicked out of school because of their braids star in Kelly Rowland's new music video
Kelly Rowland featured two black girls, who were kicked out from school after braiding their hair, in her new music video. In partnership with the Unilever beauty brand "Dove," the soulful singer aimed to reverse negative notions about being "different" in their new music video collaboration.
This collaboration brought about "Crown," a song that encourages young girls to embrace the way they choose to style, cut, grow, or color their hair.
Before the release of this new video, Kelly Rowland shared how when she was younger, she was very insecure about her curly hair.
"I remember not being able to go swimming when I wanted or it just being a 'to do' to do my hair and just knowing that there was some sort of difference, and even being picked on."
Up until today, Kelly still gets comments about her appearances, which she's learned not to listen to, as it does not do anything but try and bring her down. This is the same type of message she wants to show little girls so that they too can stand up for themselves and be whoever they want to be, loud and proud.
Not only did Dove and Rowland create a powerful anthem for young girls to be confident about themselves, they also reached out to girls who have been treated unfairly from across the country because of their hair choices to start in the video.
"I just love the fact that myself and Dove are opening up this dialogue for a brand new conversation to take place that allows girls to really get a sense of confidence about their hair at an early age so that they understand even though there are so many different things going on in the world that they're living in, they get to also change the narrative and start to embrace their own hair beauty and knock down these hair beauty stereotypes."
Included in the video are 11-year-olds Tyrielle Davis and Faith Fennidy who were kicked out of their school in Louisiana after their sudden school policy change that banned clip-ins and extensions. Two other sisters named Jorja and Sarah Orrik joined in on the fun as well, after they were bullied for cutting their hair short.
"To be so young and to understand that at an early age and to celebrate it as a brand and have it celebrated and have these girls be able to tell their stories on such a platform — we're headed in the right direction and that's what makes me so excited."
With the release of the "Crown" video today, we can't wait to see how it impacts the younger generation of girls to be their own selves and be confident in the way they want to look. Watch the powerful video here:
Please fill in your e-mail so we can share with you our top stories!