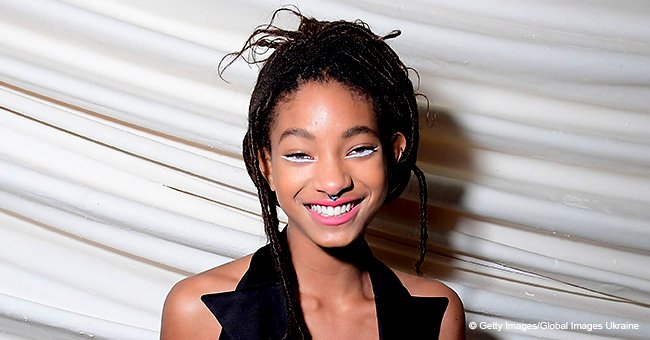 Will Smith's daughter & her rumored man slammed for dressing like homeless people on rare outing

Willow Smith and her rumored boyfriend, singer Tyler Cole, were recently spotted together again and social media users are going off on the couple for dressing like "homeless" people.
The Shade Room took to Instagram some hours ago with a photo of Smith and Cole out and about in the streets.
The "Whip My Hair" singer held on to what looked like a shopping bag and appeared to have been saying something when the shot was taken.
Cole and Smith seemed pretty cozy with each other, and even the post caption agreed. "Okay! #WillowSmith and her mansss #Tyler are still going sKrong," it read.
The couple's outfits, however, caught the most attention and had people dragging the youngsters for their style choices.
PECULIAR CHOICES
Smith, 18, wore a black bomber jacket with several colorful badges over a light blue t-shirt. Her large, black pants trailed all the way down to chunky boots of the same color.
It didn't look like Smith was wearing any makeup and she only pulled back her dreads in a top knot.
Cole, on the other hand, took the more unconventional route. The R&B artist rocked a black leather jacket over a blue-and-green striped t-shirt, but it was his pants that were quite the unique choice.
Looking more like a pair of joggers, the clothing item consisted of bits and pieces from different fabrics. It also stopped some inches below his knee, revealing patterned blue socks worn with black-and-white sneakers.
SOCIAL MEDIA BACKLASH
The internet didn't seem to agree with Cole and Smith's ensemble and slammed them for dressing like "homeless" people.
"She's so beautiful but why do they look homeless" ~@urfavpixie
"Why do rich people buy expensive poor-looking clothes" ~@mrsruthiej1
"@sharondaxheather I'm not rich, but I damn sho dress better than that. All the money in the world couldn't have me looking homeless" ~@lil2short81
THE COUPLE'S HISTORY
Although Smith and Cole have been linked together as far back as 2016, the pair has never confirmed that they're dating.
In 2017, Smith, then 16, also reportedly moved in with Cole, then 18, with the permission of her parents, Will Smith and Jada Pinkett-Smith. Those reports were never ascertained.
Last December, Smith and Cole were spotted holding hands and taking a stroll in downtown Los Angeles, and in April, they enjoyed a weekend of fun and movies together.
The rumored couple has also collaborated on at least two of Cole's songs; "Afraid" in 2016 and "Fools" in 2017.
Please fill in your e-mail so we can share with you our top stories!