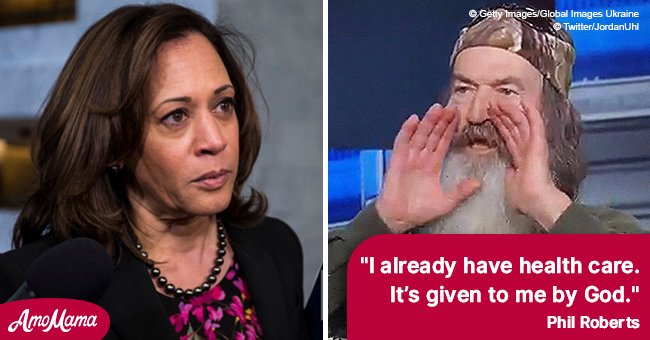 'Duck Dynasty' star Phil Roberts slams Kamala Harris over 'Medicare for all'
Phil Robertson appeared on CNN for an interview that left many scratching their heads. He said he had "eternal healthcare" from God.
The "Duck Dynasty" star was confident in the words he spoke as he lashed out at Senator Kamala Harris. The Californian Democrat is supportive of Medicare for all citizens.
As host, Neil Cavuto helped Robertson to promote his new book "The Theft of America's Soul: Blowing the Lid Off the Lies That Are Destroying Our Country," the two entered the discussion about free healthcare. The clip is found below.
"She says 'elect me and everything's free. Look, everybody can have their own healthcare the government's gonna finance the whole thing. It's not gonna cost but $30 trillion.' "
Cavuto attempted to get into the details of Harris' plan:
"But she's saying that other people that have been getting away with financial murder will pay for it. The rich — guys like you."
That's when Robertson made statements directed at the upcoming presidential candidate:
"Kamala, I already have healthcare, it's given to me by God. Eternal healthcare. I'm guaranteed to be raised from the dead. I have life and immortality given to me by God through Jesus Christ."
While the 72-year-old's faith is commendable, it seemed a bit bizarre to dismiss the idea of healthcare in such a way. Twitter users were quick to make fun of Robertson's opinion.
Cavuto further prodded Robertson by asking, "But people get sick on Earth in their human form, so would you advise…?"
The reality show star was unfazed, however. He passionately explained:
"The temporary reprieve is not worth it. I'm telling her I have eternal healthcare and it's free. Doctors can give you a little temporary reprieve but they cannot save you from physical death. The doctors who treat you they die too."
Attempting to clarify the level of generalization with which Robertson spoke, Cavuto asked:
"But you're not dismissing that we need people in health care, right?"
"I didn't have health care for 50 years and someone says, now I'm rich and famous, so I said, 'Miss K You can buy every kind of insurance known to man if you want to, but I've never needed it for 50 years.' So there ya go."
Robertson's "Duck Dynasty" finished in 2017 after four seasons on A&E. It showed the life of the conservative Christian's family and their business in West Monroe, Louisiana.
Controversial comments from Robertson arose way back in 2013 when he compared homosexuality to bestiality. He also suggested that "black people were happy in pre-civil-rights-era Louisiana."
Although not everyone is in support of Harris' "Medicare-for-all" policy, Robertson's claims seem to absurdly espouse that health personnel is not necessary.
Meanwhile, Harris' press secretary Ian Sams made clear that "Medicare-for-all" is the only plan that she believes "will solve the problem and get all Americans covered. Period."
With that idea, private health insurance would become a thing of the past. Harris wants to "eliminate" the process of waiting for approval from the insurance company.
"Let's move on," she said. And while Harris' plan appears ridiculous to Republicans, many are eagerly willing to defend the simple plan for all Americans to have healthcare.
Another platform Harris pushed forth recently is ending gun violence. She appeared on CNN for an interview about the issue. When asked what she thinks can be done, she stated:
"I think somebody should have required all those members of Congress to go in a locked room – no press, no one else – and look at the autopsy photographs of those babies. And then you vote your conscience. This has become a political issue."
She identified universal background checks and banning assault weapons as two ways to fix things. Then she further insisted:
"You can be in favor of the Second Amendment and also understand that there is no reason in a civil society that we have assault weapons around communities that can kill babies and police officers."
Please fill in your e-mail so we can share with you our top stories!