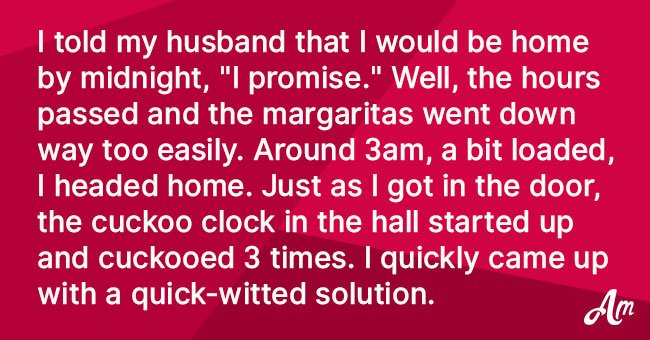 Wife came home 3 hours late from a party

At the stroke of midnight, things don't always work out as planned, as I found out one evening.
Following a long week of work, myself and some friends decided to have a girl's night out, but since I had plans with my husband early the next day, I promised to be home by midnight.
We took the act of unwinding to a new level as we partied for hours on end until I finally made my way home, and by the time the taxi dropped me off, it was just before 3 am.
The promise made to my husband hours earlier suddenly dawned on me as my intoxication mind tried to coordinate my hand with the door in fitting the key in the lock.
I barely made it into the house when the cuckoo clock in the hall started up, cuckooing three times. Realizing my husband might be awake, I quickly cuckooed another nine times. Proud of being capable of such wit during such drunkenness I went sleep, glad to have sidestepped conflict with my husband.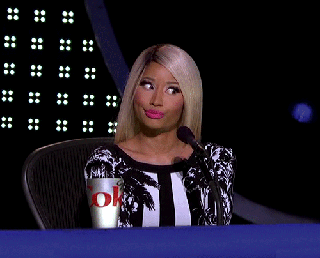 Source: Giphy
The next morning as we were about to have breakfast, my husband asked what time I got home, and of course, I told him, "Midnight." With a mockingly bemused face, he said, "We need a new cuckoo clock."
While taking a sip of coffee, I tried to look innocent as I enquired why. But then he replied:
"Well, last night our clock cuckooed three times then said, 'oh, ***.' Cuckooed 4 more times, cleared its throat, cuckooed another three times, giggled, cuckooed twice more, then tripped over the coffee table and farted".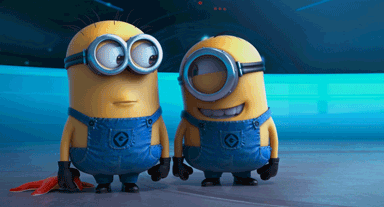 Source: Giphy
If you would like to keep the laughter going, you can take a look at the sailor in the United States Navy who couldn't find
a place to sleep for the night
, as all the rooms in the small town got taken.
But the sailor was ready to resort to whatever means necessary to get a bed.
Please fill in your e-mail so we can share with you our top stories!